Connecting BIM and GIS
BIM (Building Information Modeling) and GIS (Geographic Information System) are two technologies with specific purposes and use. GIS has mapping features and geographical databases, while BIM is specifically used for building assets as an object-based information model. The connecting link between these two technologies is gaining credibility in complex and large-scale projects. Architectural and civil engineering projects usually make use of BIM technologies while environmental projects are traditionally done using GIS systems.
In this blog, we will learn about all the benefits, and differences between GIS and BIM technologies and their uses.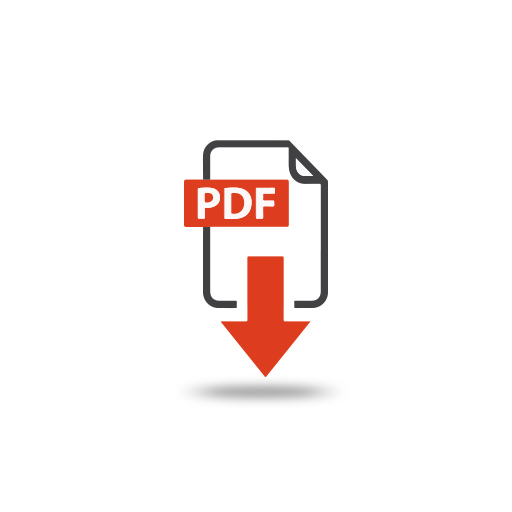 Integrating BIM & GIS
Don't have the time to read the whole blog, no worries you can download it and read it at your convenient time.
DOWNLOAD YOUR PDF
What is BIM?
3D depiction of Physical and functional characteristics of building assets.
BIM provides an integrated database for the building and infrastructure assets that include a 3d representation of physical & functional characteristics and geometrical data of the associated assets. It is a resource of information that is shared and that supports document management, trade coordination, team collaboration, and 4D construction sequencing. It helps in decision-making throughout the project life cycle.
BIM Software: Revit, Navisworks, AutoCAD 3D , Civil 3D and others
Read more about What is Building Information Modeling (BIM)?
What is GIS?
2D & 3D representations of geospatial shapes
GIS provides information about natural and built environmental assets and other crucial factors considering geography, demography, social economy, and environment. It is a system that collects, creates, integrates, manages, analyzes, and visualizes spatial data using maps. It helps users understand patterns, spatial relations, and geographic context. Ultimately, it helps efficient decisions about the facility management and operation & maintenance of those assets.
GIS Software: ArcGIS, CityGML, Bentley Maps and others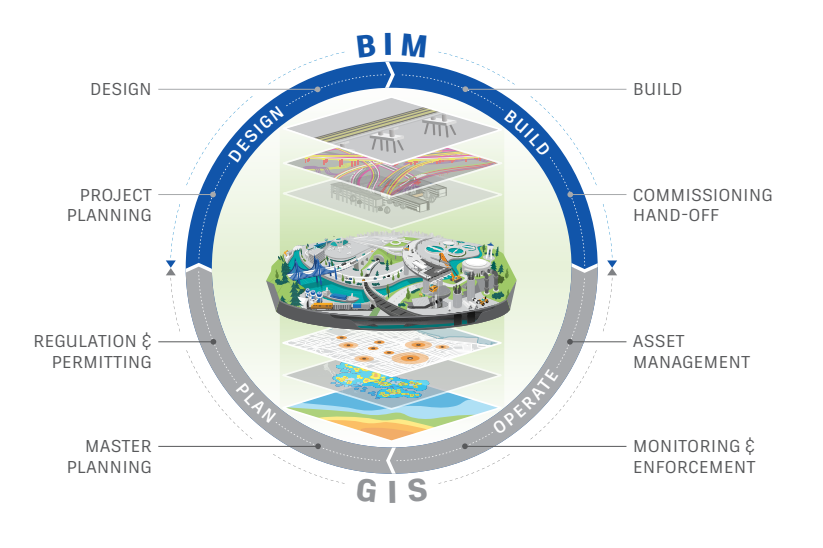 BIM and GIS
GIS informs BIM by providing the real-time data of an asset's existing environment which helps designers and engineers to explore and evaluate the design and construction. Furthermore, an information-rich model can be used to improvise all the assets within a larger area for operations and maintenance.
Integration of BIM and GIS builds a robust model where geographic and infrastructural design information are compiled together to ease the understanding of asset's interaction and relation within geography.
Application of BIM-GIS Integration
The developed BIM-GIS model includes all information about utility infrastructure used during the planning, design, construction, and operation stages. The application of BIM-GIS integration are the followings:
The BIM-GIS platform provides the geometric 3D visualization of each component that contains geometric information and semantic information. The visualization facilitates project planning and execution. The visualization of geographic terrain, details on the terrain, surrounding facilities, ground and underground infrastructures can be realized in the GIS environment.
Operations and maintenance work are required either due to failure of utilities or according to routine schedules. The BIM-GIS integrated model provides ready to us information about the utilities that can be used by the operation and maintenance team to identify the location, types, and material. Readily available information about the utility, making the system effective, reduces time delays and cost overruns.
Renovation and repairs activities are common during the operation stages. Traditionally, the utility information is either unavailable or is available in 2D CAD drawings. It is very difficult to extract the exact utility information from 2D drawings that cause a potential clash between the utilities. In this BIM-GIS integrated platform, many BIM tools such as Civil 3D, Navisworks, and GIS tools such as ArcGIS provide capabilities for clash detection between the 3D utility model. The 3D model helps in providing information that will help in further actions.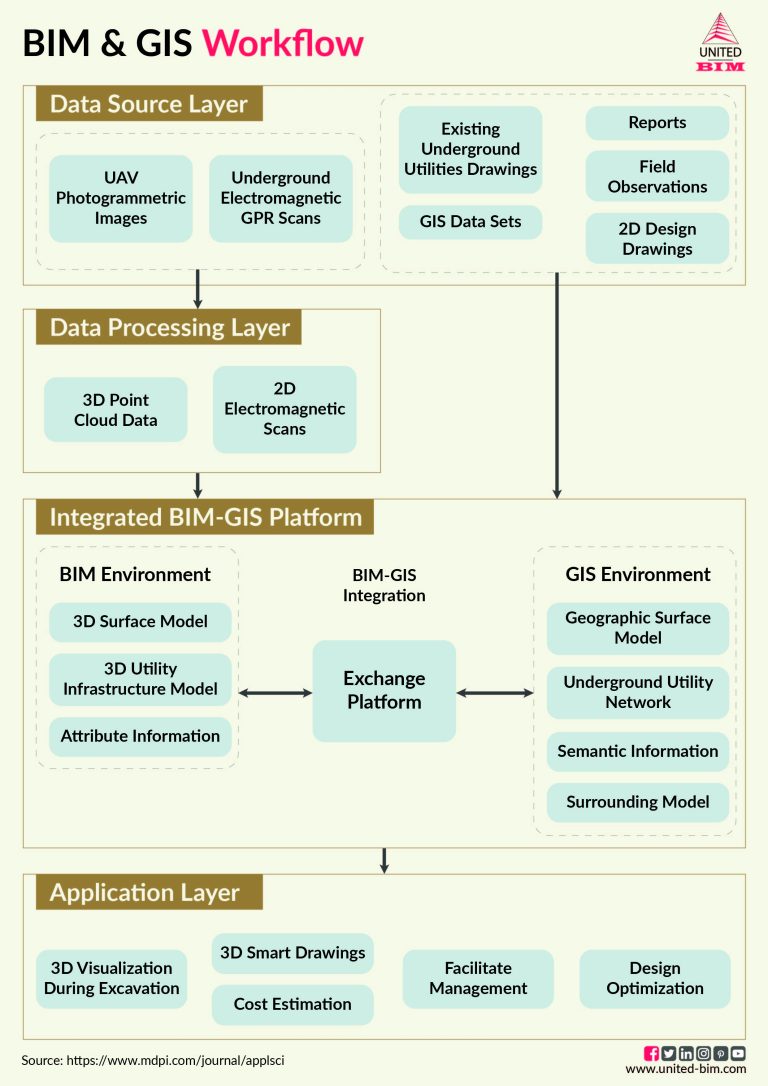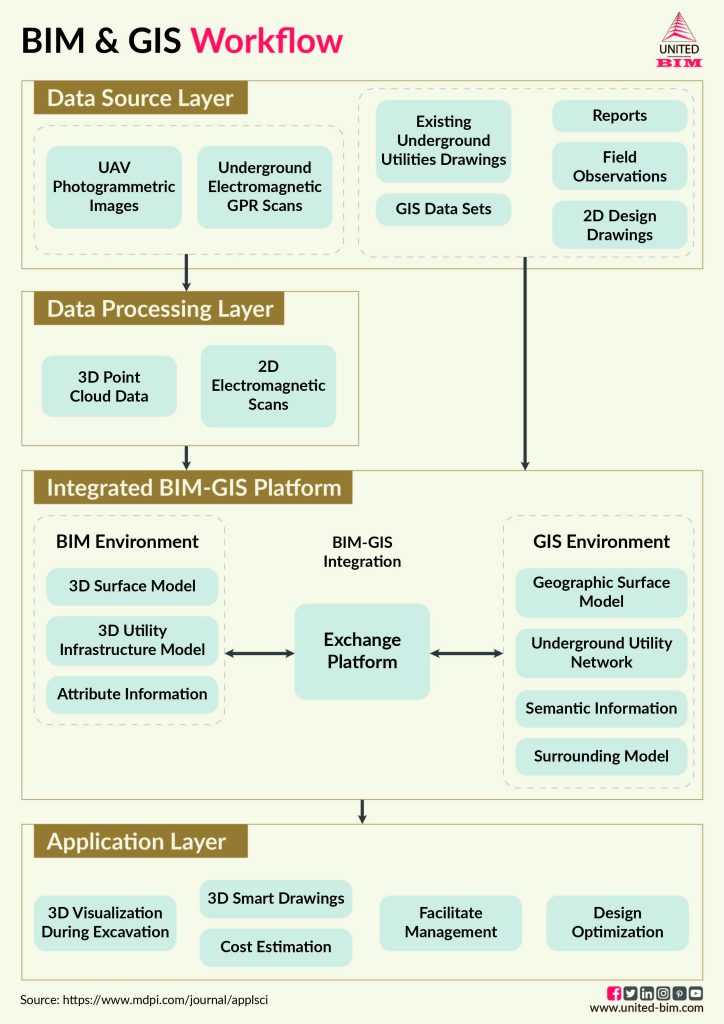 BIM-GIS based Underground Utility Management System
| | | |
| --- | --- | --- |
| Qualitative Metrix | Traditional Underground Utility | BIM-GIS Based Integrated Framework |
| 2D Visualization | Yes | Yes |
| 3D Visualization | No | Yes |
| Quantity take-off | Manual | Automated |
| Material Information | Basic | Detailed |
| Data Sharing | Manual | Automated |
| Excavator Operator Visualization | No | Yes |
| Utility Clash Analysis | Manual (hard) | Automated (easy) |
| Design Change | Manual | Automated |
| Facility Management | No | Yes |
Benefits of BIM and GIS Integration
Maximize the returns from existing investment in BIM & GIS software
Advance the understanding of highly detailed geospatial context
Enable collaborative workflows that easing the data reuse for all the parties involved
Make better-informed decisions to accelerate project delivery and improve the operations and maintenance of completed assets.
Help architects, engineers, and GIS teams work together more effectively to put data at the center, remove silos, and connect workflows.
Enable architects and engineers to design smarter, more efficient buildings and infrastructure.
Collect and analyze data from the field and improve communication with key stakeholders.
Connect existing systems of record to create a federated source of truth that helps minimize costly errors and delays regarding critical design decisions.
Conclusions
Adopting 3D BIM processes and GIS technologies will largely benefit the environment and remediation industries. It will open the door for more-inclusive stakeholder engagement, better design quality, and data-driven decision-making. Integration of BIM and GIS provided more holistic and integrated workflows in the AEC industries to reduce cost, and meet growing demand.
Explore our BIM Services
References