Our Building Information Modeling- BIM Services Portfolio
Our BIM Services

Varied BIM Services, Varied BIM Solutions.
At United-BIM, we offer BIM services using Autodesk's Revit platform to support BIM workflow. Revit is a successful tool used to enhance BIM services like 2D drafting and 3D modeling services. We create professional 3D BIM models to enable effective pre-construction planning and to provide a collaboration platform for all project stakeholders. BIM services add value to AEC projects and enable design modeling from pre-construction concept stages through to detailed construction stages.
Get A Quote Now!
BIM can be put into utilization for various objectives
Assorted BIM Services for Different Construction Objectives
3D - BIM Modeling
Accurate modeling matching design documents leading to a high level of visualization in 3D and ability to update these views along the project life cycle, from conception to construction.
4D - Scheduling
Link 3D digital model with time or schedule and get precise and useful construction project information –  milestones, activities, and deliverables, and intended start and finish dates.
5D - Cost Estimation
Estimate quantity take-offs and cost for the ongoing projects or bids, highlight differences in BOQ of tender vs. final construction, extract BOMs, RFIs and construction documentation.
6D - Sustainability
Create an effective energy and environmental performance inside the building through an Energy Analysis Model (EAM) showing all of the key paths and processes of heat transfer throughout the building.
7D - FM & Maintenance
Improve building performance, reduce repairs and maintenance costs through spatial programming, record modeling, preventive maintenance scheduling, asset management and space management & tracking
Scan to BIM
Execute retrofit, refurbishment, redevelopment and renovation projects with As-Built Information Model depicting the pipes, walls, slabs, roof planes, facade and landscapes in and around the building.
Our Experience
Our team has exposure to wide genre of projects including multiple sectors and different scales. Through our past record we are confident and capable of anticipating and tackling possible mistakes.
We offer customized Building Information Modeling- BIM services, helping clients to get more efficiency with accuracy and on-time delivery by becoming their extended team. We provide coordinated services between Architectural, Structural, MEP, and FM services.
We have our expertise in executing BIM projects for architectural design firms, Structural & MEPFS firms, retailers, home-builders, building services contractors, construction contractors, facility managers, planning consultants, manufacturing and engineering firms.
Explore Services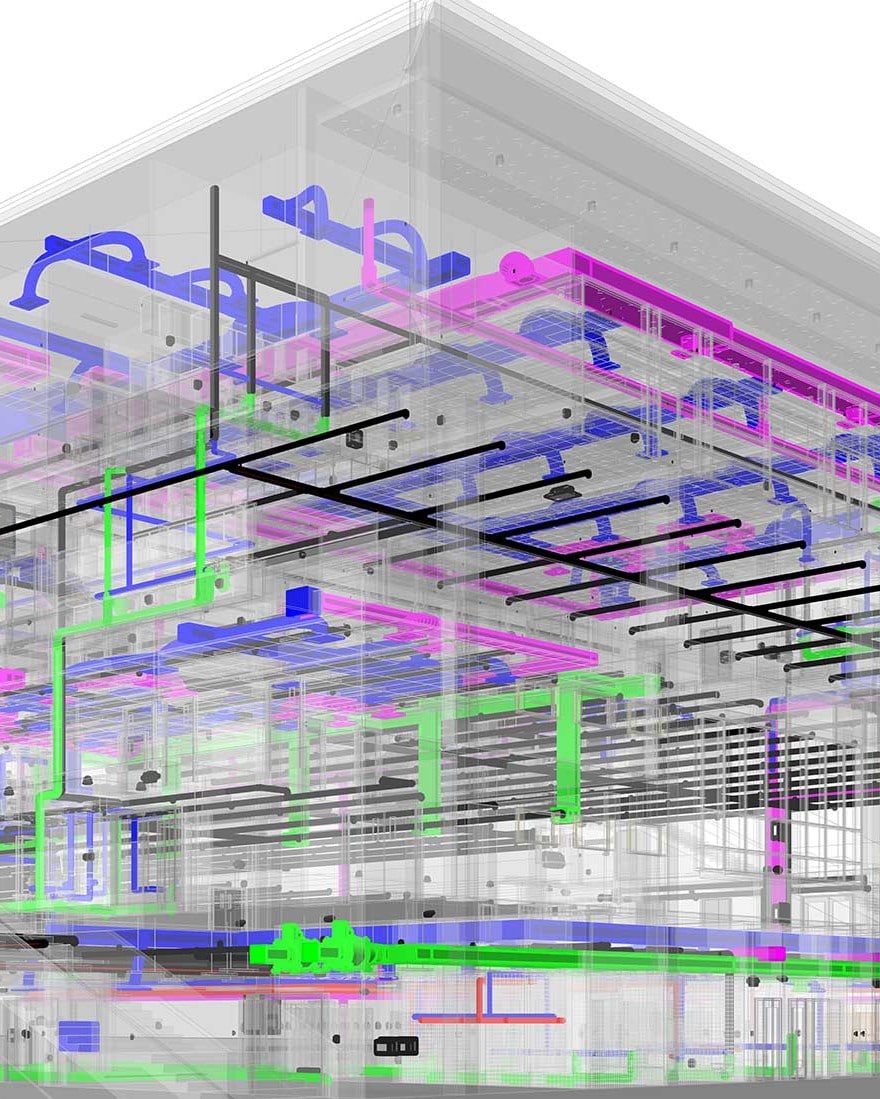 Our Expertise
Our Architectural and MEP teams have expertise with 2D & 3D CAD software tools such as Revit Architecture/Structure/MEP, Insight 360, Tekla, Navisworks, Bluebeam, 3D Studio Max, V-Ray, and Photoshop etc.
Revit, Recap Pro, Insight 360
BIM 360 Team, Amazon Chime, Dropbox
Some of the Projects Delivered Through Our BIM Services
Featured Projects
Focus on Designing,
Let Us Take Care of the Modeling
With comprehensive BIM services, utilizing BIM supported tools and software, we aim to provide support to AEC professionals in every stage of a construction project. One of the main key factors in construction project design and execution is coordination with multiple stakeholders. By assisting at multiple stages to different stakeholders make BIM services provider like us an add value to the project. Especially, at the MEP coordination phase, having all-discipline modeling and coordination capabilities enable us to coordinate efficiently.
Variety of BIM services capabilities for multiple stakeholders
Blend of expertise, experience, and exposure to AEC industry
Strategic BIM partnership allows you to focus on core functions, such as designing, client interaction.
Increased speed of modeling - Quicker turn-around time
CONTACT US