Rebar Detailing Services
We provide structural rebar modeling and rebar detailing services for all the structural rebar connections and reinforcements at LOD 400 as per the company and industry standards. Our BIM model provides accurate rebar shop drawings for easy rebar installation and placement of the reinforcement at the site with accuracy.
We follow the below International Industry Standards for our Deliverables-
AASHTO – American Association of State Highway and Transportation Officials
ACI – American Concrete Institute
ASTM – American Society for Testing and Materials
BS – British Standard,
CRSI – Concrete Reinforcing Steel Institute,
RSIO – Reinforcing Steel Institute of Ontario
RISC – Reinforcing Steel Institute of Canada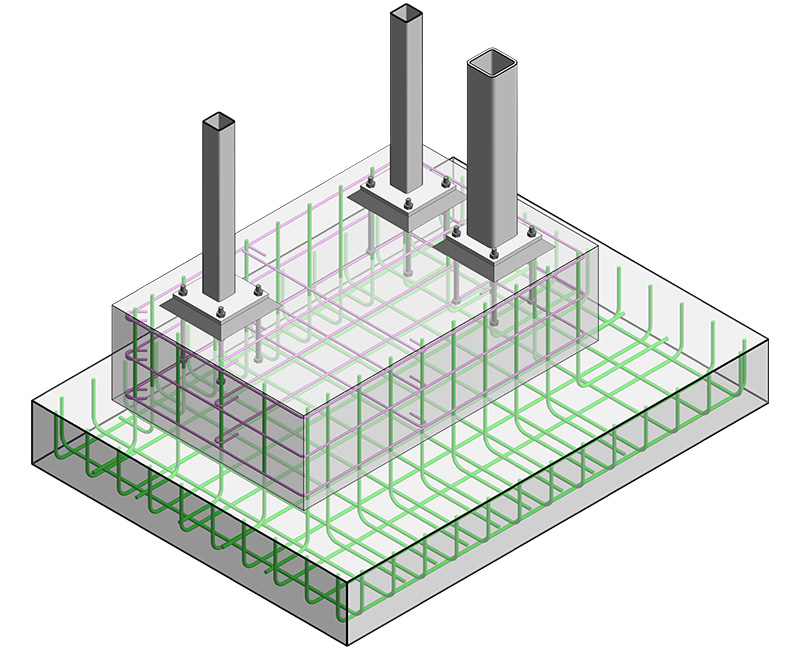 Our Structural Rebar Detailing Services Include:
We understand the different types of requirements in our rebar modeling services, which include, bending shapes, description, quantity, and laps of the reinforcement steel, and its dimensions. We produce rebar detailing drawings and models to incorporate spacing, location, rebar size, and lap of steel. We help structural engineers, rebar fabricators, steel erectors, concrete contractors, designers, and General Contractors by providing rebar models, design models, cost estimation and schedules, and rebar shop drawings at LOD 400.
Rebar Concrete Shop Drawings
Rebar Placement Detailing
Bar Bending Drawings and Schedules
Structural Components Detailing
Roof Truss and Joint Detailing
Constructability Model and Reviews
Benefits of Structural Rebar Detailing & Modeling Services
Model-based detailing– Using the Revit BIM models help in improving overall quality as it is relied on the software algorithm to add steel reinforcement.
Fabrication ready model and drawings– The model includes all the installation, assembling and fabrication details like rebar sizes, lengths and bends which is developed as individual Revit Families. This ensures consistency, quality and documentation which can be directly handed over to the supplier.
Accelerates Project Schedules– Every drawing sheet, 2D or in 3D view is a presentation of the model, and they are parametric in nature. This enables the automatic sync of the model with the drawings and views which eliminates the need to spend time on manual updating or QC activity.
Controls Cost– Rebar detailing in a 3D environment helps in minimizing the project costs by enabling the teams to draw their own experience to more effectively calculate the structural requirement of the project and calculate the cost.
Reduces Field Errors– BIM based rebar model is in a more accessible format for different teams like contractor and rebar installer.
Our Design Practices We Follow for Structural Rebar Detailing & Modeling Services
Understanding of structural drawings and how an engineer intends to construct the structure design that requires various structural elements like footings, Slabs, Walls, Beams, Staircases, Pile Caps, Piers, Segments, etc.
Understand of the notes, schedules and all the other documentation and information relevant for Rebar Detailing of the Structural elements.
Understanding of the construction drawing from the other trades like Architectural and MEP to ensure consistency, clash and other details that can affect Rebar Detailing.
Raising RFIs to the project teams to gain understanding of the missing information, conflicts and ambiguous situations.
Understanding of all the structural elements and how they are reinforced.
Strong hold in Rebar Detailing knowledge regarding its code, different standard bend shapes, standard hook lengths, lap lengths, development lengths, etc.
Knowledge of proper Rebar Fabrication Process
Rebar Placing drawing presentation style to suit the Contractors Placing crew
We Provide Rebar Modeling Services Across USA & Canada