Engineering design is a dynamic field that requires effective coordination between several stakeholders for desired results. In the current era, any construction design project involves several stakeholders such as structural engineers, architects, contractors, suppliers and vendors, sometimes making the project completion process highly-complex.
On top of it, the whole building design and construction ecosystem are facing the challenge of timely completion of projects. In such a scenario, accuracy and precision are critical elements during the design phase.
What is BIM Clash detection?
Clash detection is a critical part of the integrated BIM modeling process. BIM modeling involves creating a comprehensive master model that includes design models from different disciplines of engineering design. Navisworks is the best BIM-adopted software in the market useful for Clash Detection and Clash Report Generation.
Why BIM Clash detection is Needed?
Clash detection via Building Information Modeling (BIM) helps in speeding up projects by identifying clashes between several models during the design stage itself, helping architects and contractors eliminate chances of multi-level design changes which can result into budget overshoot and delay in project completion time.
Get clash free reports for your design and construction project. Contact us with your requirements .
Using advanced-stage computer-aided 3D modeling, the instances of last-minute hurdles due to inconsistencies in different models are eliminated. As all the things are taken care of during the design stage itself, clash detection saves valuable time, effort, and money throughout the entire BIM Execution Plan during a construction project.
How BIM Clash detection Comes into the picture?
Architects, Structural engineers, MEP engineers (HVAC, Electrical and Plumbing), Environmental engineers and other professionals create design models, independent from each other. Once all the models are integrated into the BIM modeling process, clash detection comes into the picture.
Know more about our Clash Detection and Clash Report Generation Services.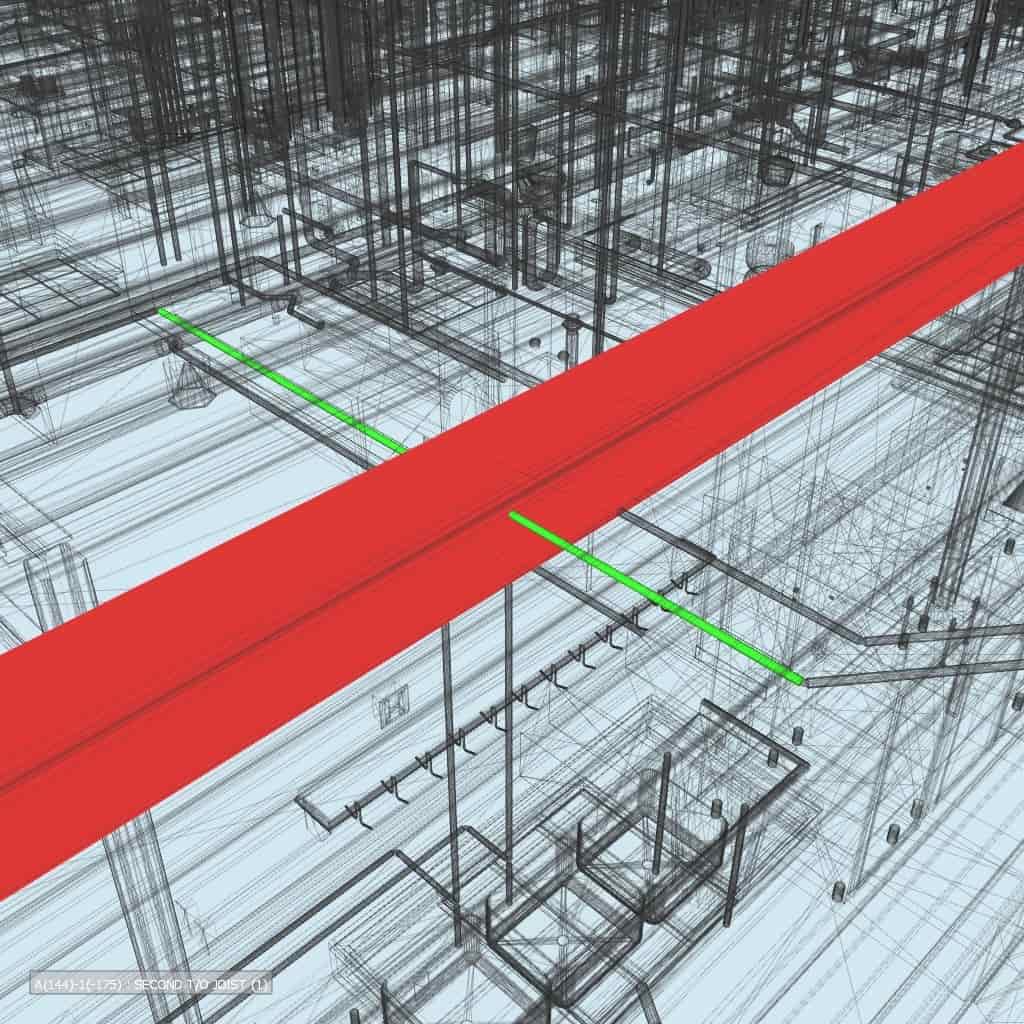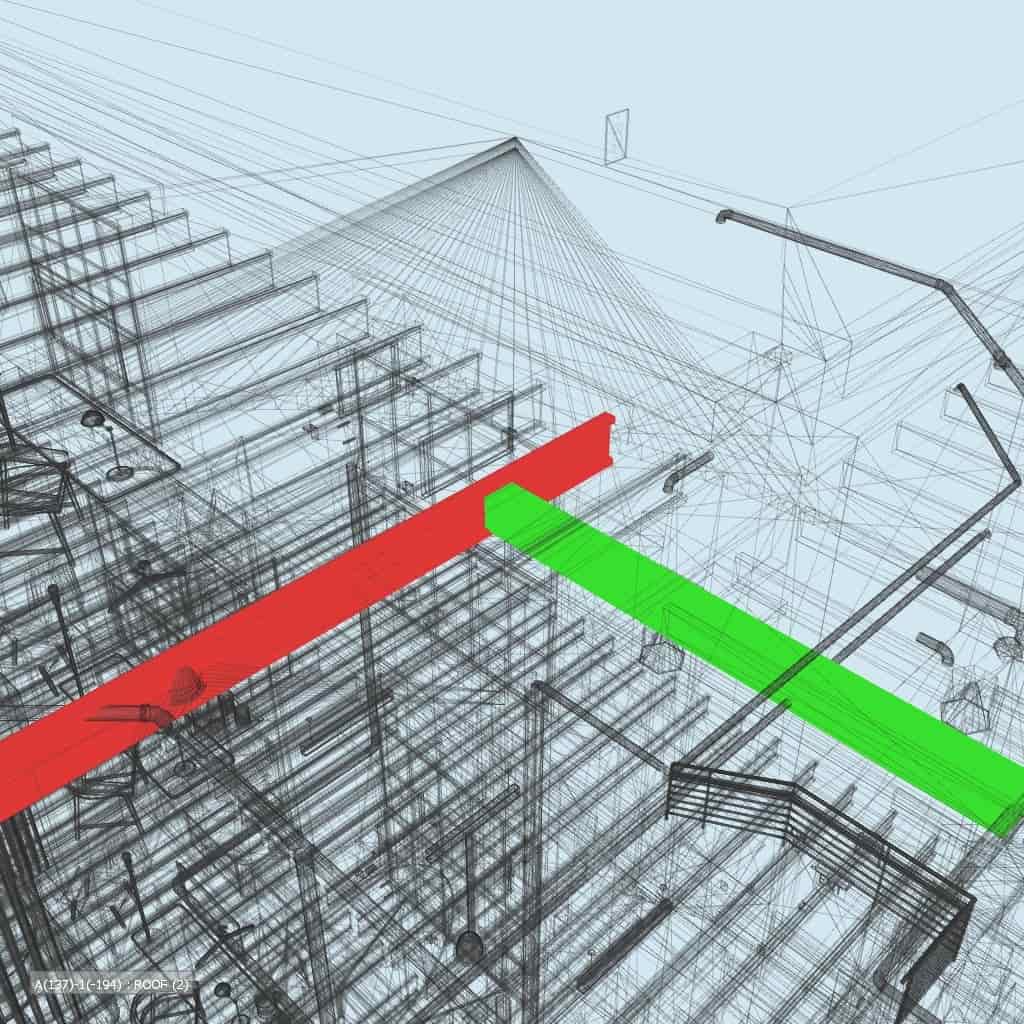 What Happens in BIM Clash Detection Process?
The clash detection process by using Autodesk Navisworks, identifies where the independent models clash with each other- finding where elements from one model overlap the elements of models from other architect-engineering design disciplines. Clash detection ensures every aspect works hand-in-hand and nothing is incompatible.
BIM clash detection has brought fresh air to an ailing industry that often faced issues like project completion delays, escalating budgets, and last-minute surprises due to incompatibility between various designs.
In the past, clash detection wasn't a pre-meditated endeavor. Engineers would supervise construction on the site itself and when a clash emerged- e.g. a beam coming in the path of air conditioning unit, everything had to be scraped and the whole construction design had to be refined on the spot. This led to costly delays, creating a need for clash detection at the design stage.
BIM makes it possible to create detailed clash reports during the design stage itself. Modern 3D graphics truly made the clash detection process streamlined and full-proof. Architects and designers can now detect clashes during the earliest stages of design.
Unlike the traditional design process that would involve overlapping designs made on tracing papers, the computerized BIM process evaluates a large number of federated models at the same time and makes it easier for BIM, structural, and MEP coordination for integrating all the design information into a master model. Using automated integration, architects and designers can identify and analyze all the instances of clashes in their model when all other models are combined into a single entity.
Advanced clash detection & design review packages like Navisworks make it easier for architects and building designers to break down bigger models into subsets for focused clash detection. Designers can check for compatibility of structural elements against walls, for instance, and mark these clashes on-screen.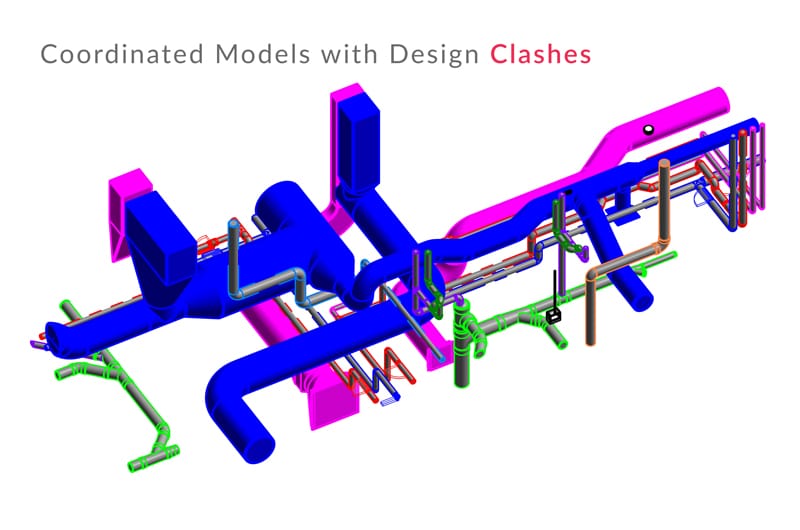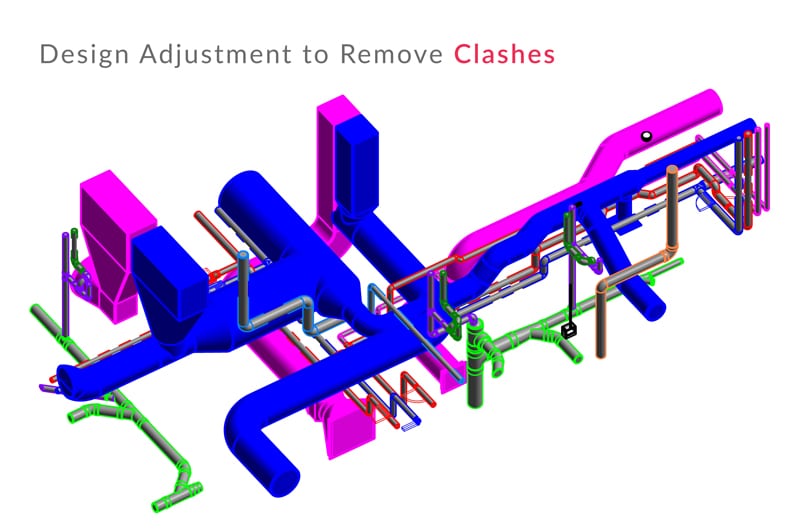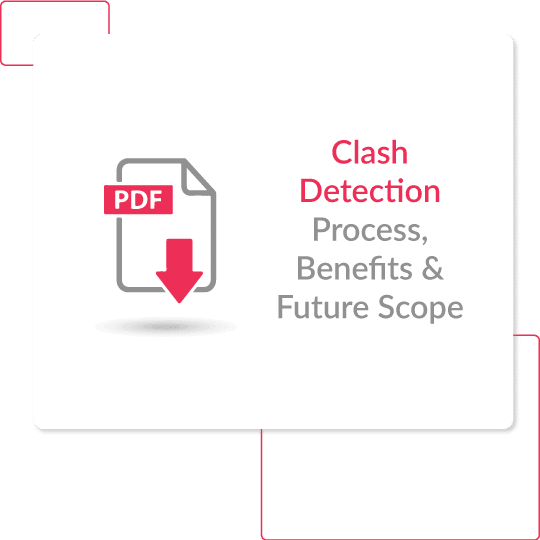 Don't have time to read the whole blog right now?
No worries. Let us send you a copy so you can read it when it's convenient for you. Just let us know where to send it.
DOWNLOAD YOUR PDF
How BIM Can Make Clash Detection Efficient?
BIM and clash detection go hand in hand. Without clash detection at the design stage with the help of integrated models, completing projects in this era is next to impossible. Clashes and interference can lead to losses, delays, and other problems during the construction stage and even lead to a total design failure in terms of compliance.
Even when a building design is compliant, design issues can lead to unprecedented losses. With BIM clash detection and coordination, building designs can become more efficient and functional. Clash reports give architects the power to identify duplicate instances of clashes and rectify clashes during the final design review.
Generate multidisciplinary clash report for your design and construction project. Contact us with your requirements .
How Does Clash Detection Works in the Modern Era – Significance & Scope
Clash detection software suites will become more powerful with each passing day. Level 3 BIM- the future of BIM technology will make it possible to work on a single collaborative and coordinated building model, unlike the present where different models are brought together to form an integrated model. This would ensure real-time review and rectification, minimizing the chances of project clashes.
In the future, high levels of interoperability between various BIM design software and integration tools will become a reality. Models will not only be imported and overlapped, but they will enhance BIM coordination by giving teams and computer models the power to interact between themselves in real-time.
So, when two teams- architectural and structural teams might be using different packages for the same project, they will interact with each other for real-time clash detection.
What are the Benefits of Clash Detection?
Accurate Engineering Design Documentation
BIM technology and clash detection have collectively made it easier for designers and architects to create sophisticated building designs without worrying about the quality of construction documents. Owing to the advanced nature of clash detection & BIM software suites, a change made to a single element is reflected in all the views, automatically. Also, as everything is coordinated, knowledge transfer is seamless, reducing manual efforts and enhancing efficiencies.
Fewer Iterations during the Construction Phase
When everything is planned, visualized and managed with BIM during the design stage itself, it leads to fewer changes during the construction phase. As everything is collated in the form of a 3D model, identifying conflicts becomes easier at initial stages, enabling teams to coordinate for resolving issues without conflict.
Better Coordination & Collaboration Between Teams
Digitized clash detection workflow makes it easier for teams to share and collaborate on the same project. BIM & clash detection with Navisworks ensures prompt knowledge transfer for streamlined coordination between members of different design, construction, electrical, and engineering disciplines. The review and markup capabilities with a real-time reflection into all the visuals make the construction process faster, better, and more efficient, without room for error due to negligence.
Automatic Clash & Conflict Resolution
Modern BIM toolkit automates multi-element clash detection. As BIM enables architects and engineers to model everything in advance, on-site conflicts are minimized as all the elements perfectly fit into each other despite being manufactured off-site.
Streamlined & Integrated Approach
Without a central BIM modeling strategy in place, it is quite hard for a building designer/architect to get a universal view of a project. With hundreds of totally unconnected documents, it becomes hard for the design team to visualize and pepper the right amount of creativity for the success of the project. BIM clash detection provides a greater level of transparency and an effective means to collaborate with other project stakeholders.
Conclusion
BIM Clash detection has revolutionized the engineering design domain, holistically. By giving everyone the power to visualize, analyze and eliminate clashes in advance, the technology is serving as much needed a lifeline for an industry stressed with thousands of issues.
At the same time, BIM and clash detection has made the lives of architects simpler by empowering them to control and supervise various elements without having to compromise on ingenuity at the last minute for project completion.
If you are thinking why MEP coordination is so much important in a construction project, read this article about MEP Coordination- Everything You Need to Know | Importance & Benefits. If you are planning to implement BIM in your latest project, feel free to Contact Us. We would be happy to help.