Construction BIM Services
We provide construction gatekeeping services to general contractors, construction project managers, owner's representatives and construction management firms by creating a BIM workflow that focuses on smooth coordination of the building design during the pre-construction and construction phase. Our team of experts carry out all the legwork required to provide peace of mind to our clients by reducing cost, schedule & quality risks in the construction project.
Our Construction Gatekeeping process includes:
Quality Baseline Model: Thorough verification and quality check of the master model.
Multi-Disciplinary Clash Detection: Running clash detection among trades (Architectural, Structural, HVAC, Electrical, Plumbing, Fire Sprinkler, and others).
4D BIM Construction Sequencing: Displaying schedule data into 3D model.
Manage Shop Drawings, Change Order & RFI: Coordinating model with shop drawings, RFI, change order, and any other requirements.
As-built Drawings: Providing highly detailed construction coordinated model and the drawings for Architects and Engineers review.
Civil/Site
We communicate with the survey team about the location of the building. Before we start modeling, we verify the gridline location concerning the structural first. We also check the correct elevation, depth of foundation, auger cast piles, grade beams, etc., and its locations.  We consider the contract documents before modeling the project and if there are any discrepancies, we review them and notify the General Contractor for them to document the information into the record model.
Architectural
For Architectural elements, we verify and model elements like Wall types and locations (incl. fire rating), Location of Chases, ceilings, and sound attenuation. We also consider if the Will kickers for soffits will be required. We verify if the dimensions are plausible or not and that the model has the correct content to do proper virtual coordination (with appropriate detail). We review and verify the contact document to maintain the accuracy of the model.
When it comes to structural modeling, we coordinate anything underground like foundations, auger cast piles, grade beams, etc.  We also verify the structural steel and joists shop drawings to the contract document and inform the engineer if there is any deviation. We model the correct bridging location of the joist and verify that there are no interferences with other trades. We review and verify the model with the contract document to maintain the maximum level of accuracy.
We verify and review the underground equipment, conduits, piping, etc. We also carefully verify the layout of the ceiling with the lay-ins, support systems and if there will be any sound attenuation. We verify the elevation and location of diffusers and lightings. For different systems types, we check the special equipment and the support systems details to attached to the structural requirements.
Identify the clashes in the 3D design that are divided into three categories depending on the importance of the design and construction project where "C" refers to Criticality – Low (C1), Moderate (C2), Critical (C3).
Provide a clash report dashboard covering soft & hard clashes and showing progress made over the time for a gatekeeper meeting – MEP engineers, architects, general contractors, designers, and building owners.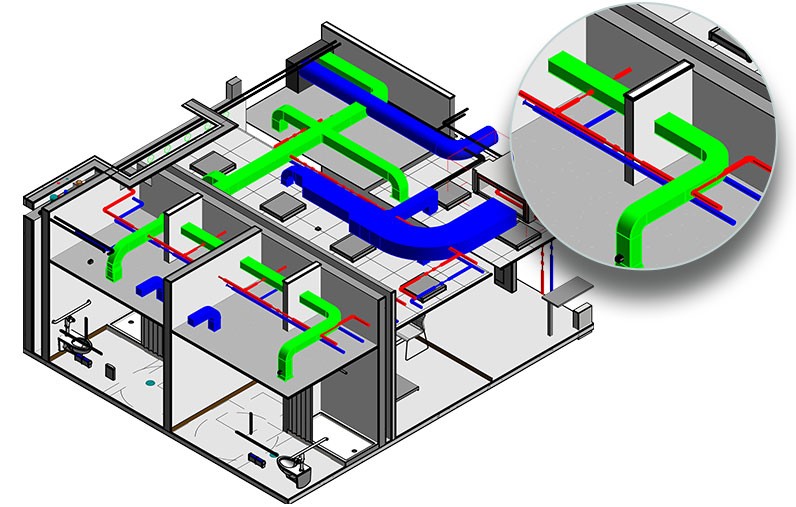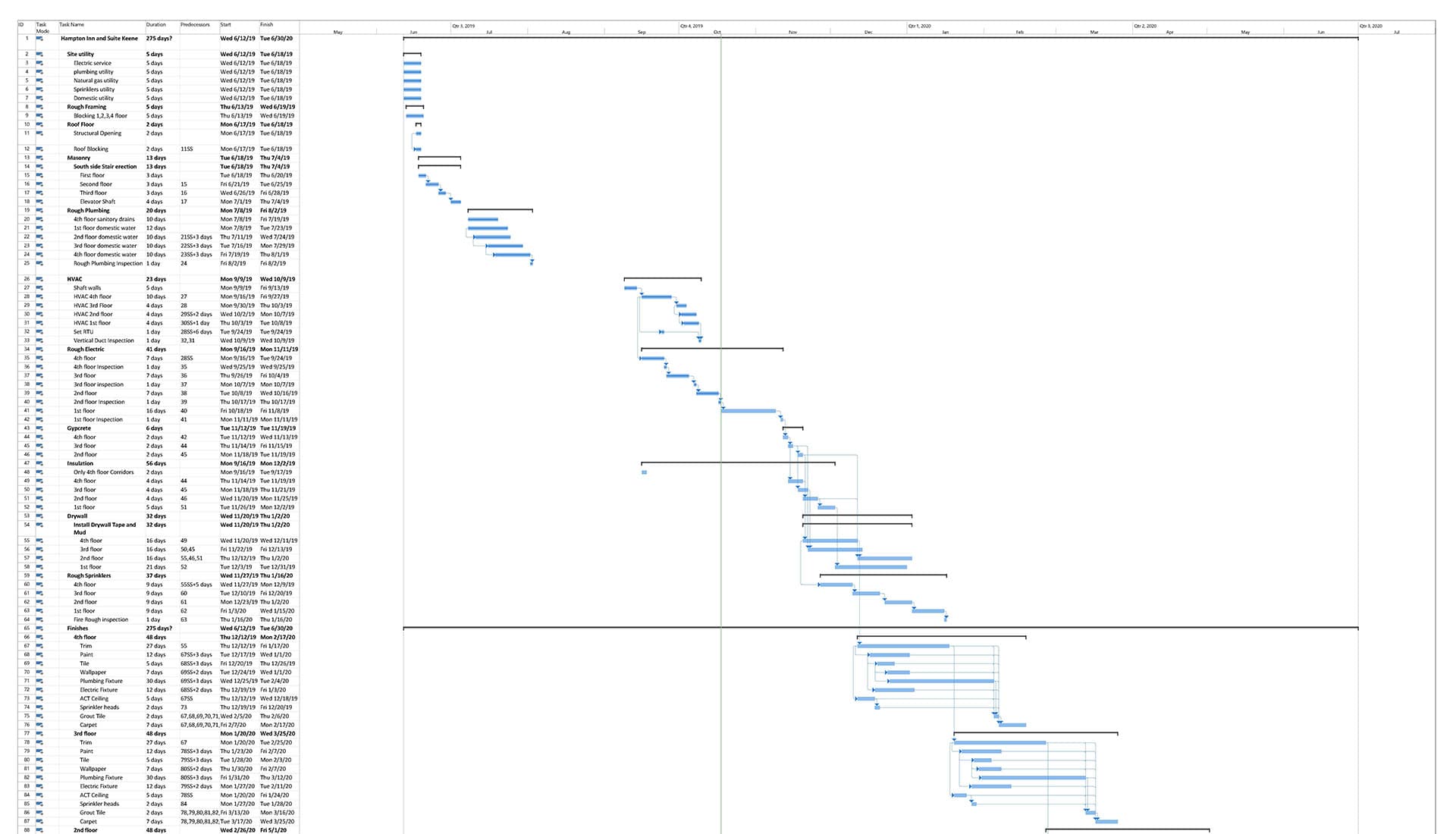 Helps in planning clear work areas looking for trade overlap as well as helping with on-site material storage coordination.
It shows the actual site conditions when installation takes place. It applies to anything that needs to move through a construction site.
Adding geometry to visually track tasks or site readiness requirements that cannot be easily communicated in a 3D building model
We provide accurate and complete fabrication and assembly information that can be driven directly from the BIM model. The details and information contained by LOD 400 elements can be handed over directly to suppliers to manufacture of the building components being represented. We need Architectural design drawings, specification and addendums for us to deliver coordinated LOD 400 BIM model for fabrication purpose, procurement schedules as per the client's requirement and fabrication/shop drawings in .dwg and .pdf formats.
At United-BIM, we have team of BIM experts, engineers and drafters who are very well versed with the nitty-gritties of LOD 400 BIM modeling. LOD 400 BIM Model will be capable of producing automated shop drawings and fabrication drawings. According to the requirement of the client, we can also include; method statements, visualizations of potentially hazardous activities, project scheduling, formwork sequencing, traffic diversions and so on. At LOD 400 BIM Model specific system information is included and elements are modelled with the necessary level of detail and accuracy for the fabrication of the components. It includes specific graphics, quantities, size, shape, location and orientation, interfaces to other systems, and fabrication, assembly and installation details.  as per the BIM Execution Plan (BEP).
For Site Engineers- We can provide LOD 400 BIM models of civil drawings for underground utility identification, coordination and conflicts.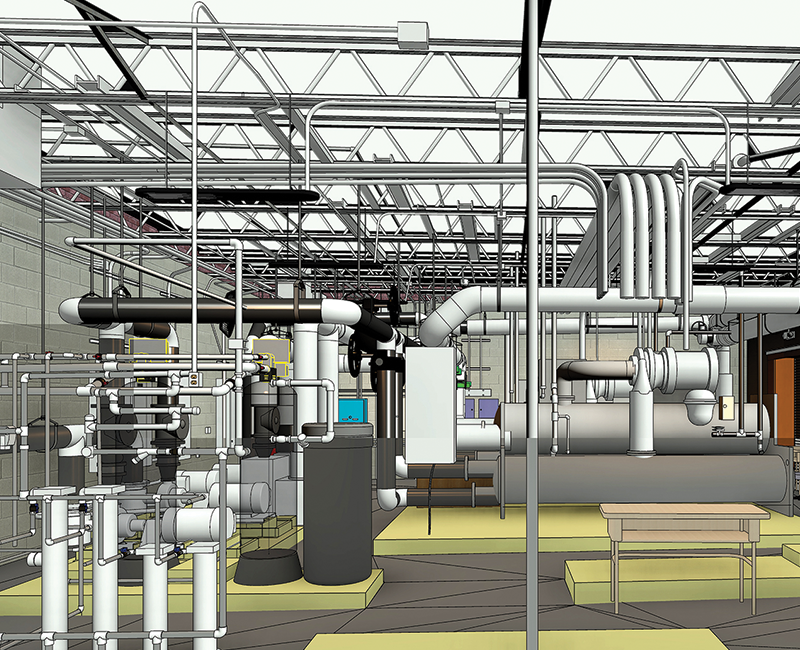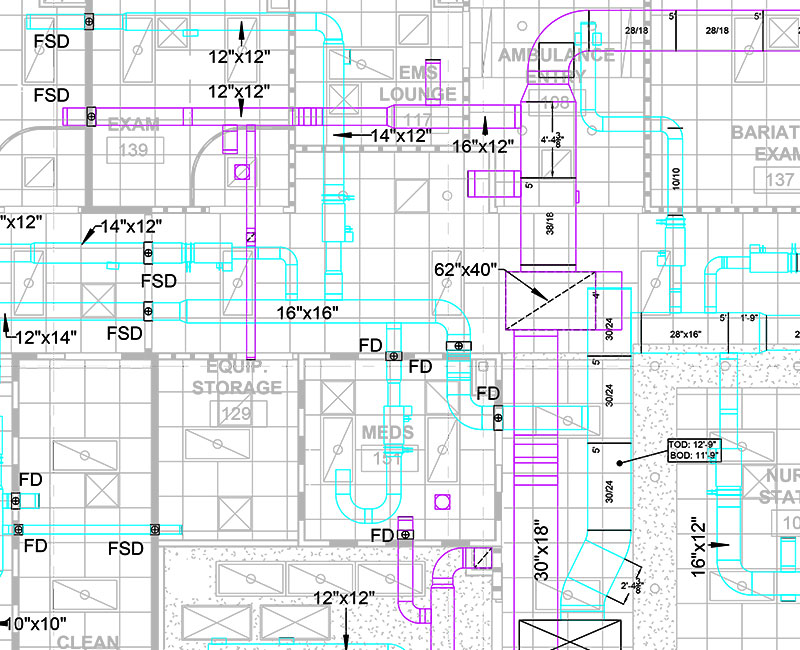 We produce Shop Drawings from Building Information Model in accordance with project standards which are useful for contractors, fabricators, building product manufacturers, and suppliers. BIM is highly effective for the construction of any complex structure. We use Revit for the generation of fully coordinated shop drawings from BIM that predict possible clashes and resolve them before the execution of the project.
We generate Shop Drawings with accurate dimensions, sleeves, penetration, and hanger locations from the BIM model. Our Shop Drawings services benefit Sub-contractors, Building Product Manufacturers, Fabricators, and General Contractors as it outlines in detail all the parts of assembling components and facilitates the fabrication process, and provides a clear picture of what to build and how it will be built.
Shop drawings are fabrication drawings with detailed plans that translate the design intent. It provides fabricators with the information necessary to manufacture, fabricate, assemble and install all the components of a structure. It includes all the necessary details of the materials and dimensions that are required for assembly, installation, fabrication, and erection.
Providing BIM Modeling Services with Quality, Speed, and a Consultative Approach
Experience
We are proud to have successfully delivered our BIM services to 1,000+ projects across all types of industries/sectors such as Hotel, Multi-Residential, Education, Commercial, Hospitals, Medical Centers, Government, Retail, Manufacturing, and Warehouse/Storage.
Expertise
Our team has rich exposure to 2D & 3D software tools such as Revit Architecture/Structure/MEP, AutoCAD, Solidworks, Navisworks, Dynamo Studio, Tekla Recap Pro, Bluebeam, Insight 360, Advance Steel, 3D Studio Max, CADMEP, Infraworks,  and Photoshop etc.
We Provide Construction BIM Services Across USA & Canada