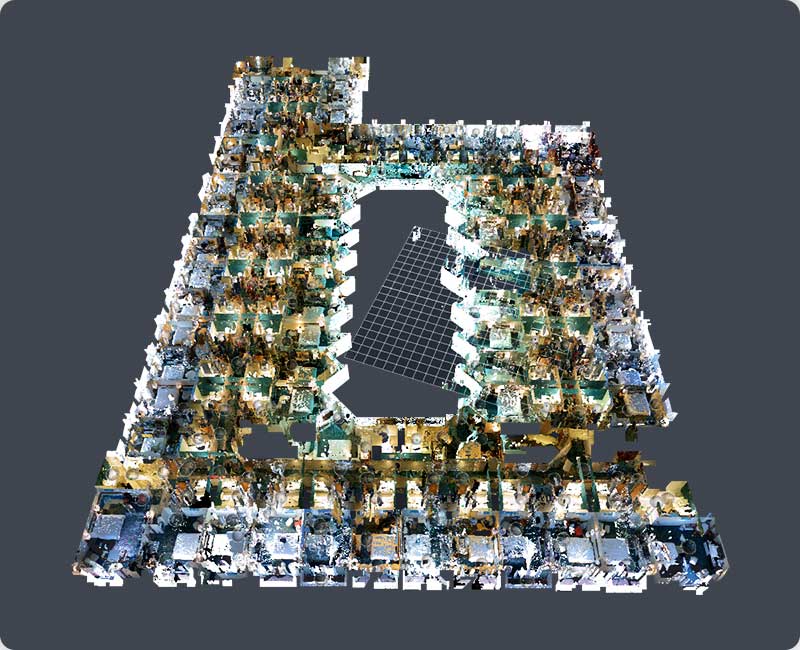 Scan to BIM | Point Cloud to BIM services
We deliver accurate and parametric As-Built BIM Model and 2D CAD Model depicting the pipes, walls, slabs, roof planes, facades, and landscapes in and around the building. We provide models with LOD 100 to 500 to our clients covering all Architectural, Structural, MEPFP Elements along with Clash Detection for their Renovation, Refurbishment, Retrofit, or Reconstruction Projects.
DOWNLOAD BROCHURE
Our Scan to BIM Modeling Process to Create a Revit BIM Model
Transfer Point Cloud Scan
Data (.rcp & .rcs)
into Revit
Create
multiple levels
of the project building
Place the walls on those
levels to ensure the
uniformity of the model
Add elements of the building
initially from the bottom
of the scan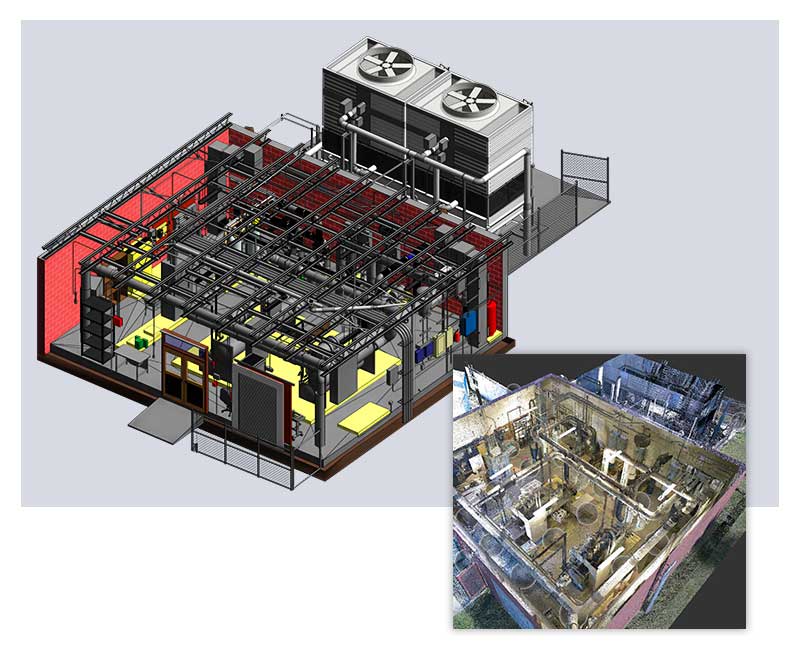 Application of Scan to BIM
We understand what a well-executed plan takes for any Retrofit/Refurbishment, Reconstruction, and Renovation Project. All the data-driven decisions like planning, estimation, feasibility analysis, etc. depending on the accuracy of the as-built model which is created from a Point Cloud Scan. A point cloud is a set of points that accurately represents the building surfaces which are used to create a 3D BIM model or/and a 2D as-built drawing. We can work on both lasers surveyed data images and point cloud data. Our Scan to BIM services (Point Cloud Modeling services) also applies for Infrastructure projects like tunnels, bridges, roads, etc.
We provide the following Level of Documentation for our clients:
Level 1: Floor Plans
Level 2: Exterior Elevation & Roof Plans
Level 3: Sections
Level 4: Site Layout Plans
We have experience of developing both Revit (.rvt) and CAD (.dwg) files from different formats of scans or point cloud data usually captured by commonly used laser scan machines— Leica Geosystems, Trimble, Faro Scanners, Reigl scanners. We also convert other format data (i.e. .fls, .e57, .pcg. .obj, .ptg) into Revit-ready format. We create information-rich BIM Ready 3D Model for Architectural, Structural and MEPFP Requirement, and Clash-free integration.
Here are few projects where we provided Scan to BIM services
Hotel Project

6-story building, 408 rooms, LOD 350

Public School Project

Mechanical Room, 2,564 sqft., LOD 350

Paper Mill Factory Project

Piping & Ducting, 11,000 sqft., LOD 200
Our Scan to BIM services includes following types of modeling
Architectural which includes walls (exterior & interior), doors, windows, cabinets, etc.
Structural which includes beams, columns, foundation, framing, annotations, truss families, etc.
MEPFS which includes electrical panels, junction boxes, ducting, pipe systems, air terminals, fire sprinklers etc.
Revit MEP design coordination to detect clashes in Autodesk Navisworks software
Benefits of Scan to BIM Services
At United-BIM, we have BIM modelers and CAD drafters who can accurately convert point cloud data into a 3D BIM model with required LOD and then to a 2D as-built drawings with dimensions, annotations, and layering.
All we require is a Point Cloud Scan/Laser Surveyed Data of existing conditions and Company Standards ‐ template, drafting guidelines from our customers for us to deliver a 3D BIM model (.rvt), and/or 2D CAD (.dwg) files. We can also provide Readlines/Mark-ups for any design changes. We have also extended our service to collaborate with external laser scanning companies that accurately capture the as-built building design.
We promise to deliver:
Accurate reproduction of point cloud scan
3D BIM models with required LOD 100 to 500
As-built 2D drawings with dimensions, annotations, layering
On-time delivery
LET US KNOW HOW WE CAN ADD VALUE TO YOUR SCAN TO BIM | POINT CLOUD MODELING NEEDS