Our Revit MEP BIM Services is specialized in developing accurate and detailed MEP modeling with required LOD and as per the BIM execution plan. Develop mechanical, electrical, and plumbing systems models as per the defined spaces and zones in the building model.
MEP BIM Services
MEP 2D Drafting Services
MEP BIM Modeling Services
MEP Coordination Services
MEP Shop Drawings Creation
MEP Fabrication Drawings
MEP Content Revit Family Creation
MEP Quantity take-off and BOM
4D Construction Scheduling
5D Cost Estimation
DOWNLOAD BROCHURE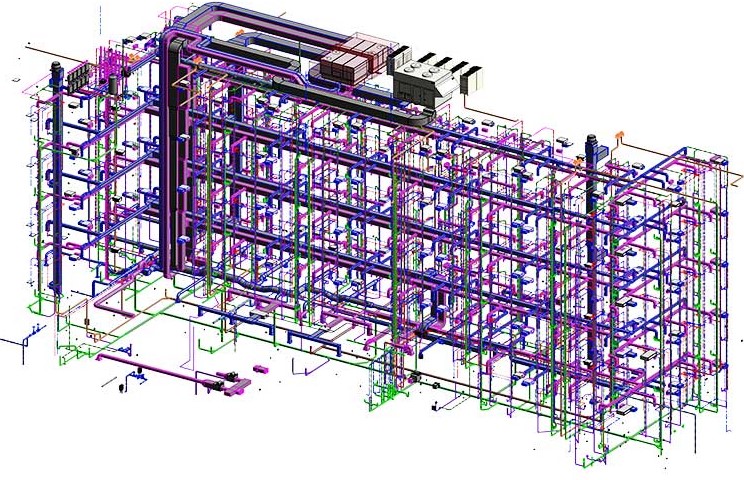 Our MEP BIM Services Include
Model mechanical systems, such as HVAC duct system using tools to place air terminals and mechanical equipment in a project. Use automatic system creation tools to create duct routing layouts
Model electrical systems to place lighting fixtures, cable trays, and electrical equipment in a project with required LOD and annotation. Coordinate electrical models with other disciplines/trades if required.
Model plumbing systems by placing plumbing components and assigning them to a supply or return system. Leverage layout tools to determine the best routing for the plumbing that connects the system components.
Fabrication & Shop-drawings
Develop LOD 400 content within Revit MEP models for the fabrication and installation process.
4D & 5D BIM
Provide a data-rich MEP 3D model for scheduling, cost estimation, quantity-takeoff, BOM.
Create parametric modeling as well as library of MEP components – Mechanical, Electrical and Plumbing.
Trades of MEPFS Modeling
Mechanical System –

HVAC Equipment and distribution such as Cooling tower, AHU, Ducting, etc.

Electrical System –

Panels, switchboards, elevators, transformer, cable trays, etc.

Plumbing and Sanitary System –

Pumps, water holding tanks, pool filtration equipment, Sump, sewage pit, grease and sand traps, etc

Fire Safety System –

Fire sprinkler pumps, sprinkler tanks fire shutter, smoke curtains, piping system, etc.

Outside of Building –

External works, rooftop, and external face of a building, etc.
Our MEP BIM Services Offering
With competency in MEPFS (Mechanical-Electrical-Plumbing-Fire-Sprinkler) design software's such as Revit, Navisworks, FABmep allows us to offer quality BIM MEPFS services. We can integrate our services with the customer's design process & workflow to deliver complete and coordinated MEPFS BIM models. As part of the services, we provide comprehensive analysis and reports to help customers further refine their design and the design process.
3D modeling and rendering for MEP layout
MEP shop drawings, fabrication and spool drawings
Quantity take-off and BOMs
Scheduling (4D) & cost estimation (5D)
MEP content creation for MEP components
Our MEPFP Coordination Process
Load MEP BIM Template
Load MEP BIM template based on the client's standards for each of the listed trades: mechanical, electrical, plumbing & sanitary and fire protection.
Verify the Architectural Model
Verify/Check the coordinate of the Architectural model with MEP models by using "Origin to Origin" positioning approach before linking them.
Prepare the MEP Model
Prepare the MEP model for each of the disciplines – Mechanical, Electrical, Plumbing, and include all elements for coordination within the central file.
Run the Clash-detection
In Navisworks any two models are coordinated together and by clicking on "Run Test", it shows the "Clash Report " occurred between the coordinated model.
Review and Resolve Clashes
After resolving clashes, we reload the cache in the Navisworks and make sure resolved clashes are in yellow, and check if any new clashes which will show up in red.
Benefits of Revit MEP Modeling Services
Our Autodesk's Revit based BIM MEPFS services help engineers, designers, and contractors across the mechanical, electrical, plumbing, and fire-sprinkler (MEPFS) trades to coordinate and communicate design intent very effectively.
Accurate 3D MEP model with the coordinated disciplines
Clash-free MEP model by resolving hard and soft interdisciplinary clashes
Extend design to fabrication by including manufacturing-specific content
Facilitate bill of material, cost & quantity estimate process
Ease of modeling with standard specification and code compliance
Projects Delivered Through MEP BIM Modeling & Clash Coordination
Featured Projects
We Provide MEP Modeling Services Across USA & Canada