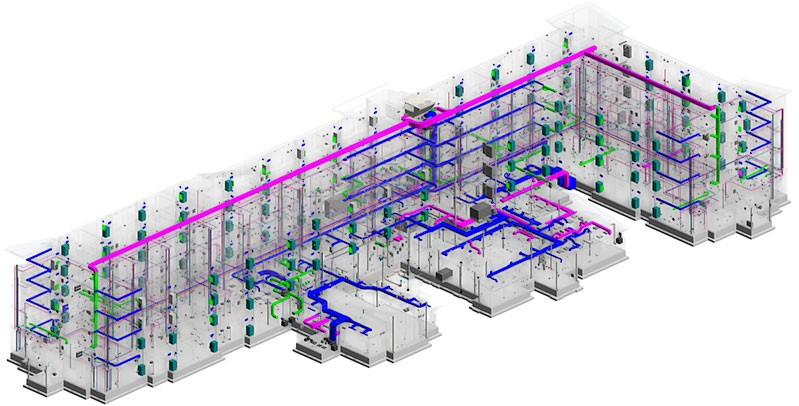 BIM Coordination Services
Our BIM Coordination services provide clash-free coordinated 3D BIM models by resolving clashes among disciplines/trades – MEP systems, architectural and structural – leading to minimal design changes/modifications.
DOWNLOAD BROCHURE
VDC & BIM Coordination Services
Clash Report Generation
Provide a clash report dashboard covering soft & hard clashes and showing progress made over the time for a gatekeeper meeting – MEP engineers, architects, general contractors, designers, and building owners.
Soft & Hard Clash Detection
Identify and resolve soft & hard clashes within each discipline/trade that were unidentified during the individual design of each discipline– architectural, structural, mechanical, electrical, and plumbing.
Coordination Ownership
Accompany you for the on-site gatekeeper meetings/visits or be a part of coordination meetings, facilitating the entire building design coordination phase from schematic design to construction documents.
Design Modification
Iteratively implement the required design changes, discussed during the coordination meetings, into the MEP system model, and eventually deliver a coordinated construction model.
Trades for MEP-FP Coordination
Mechanical System –

HVAC Equipment and distribution such as Cooling tower, AHU, Ducting, etc.

Electrical System –

Panels, switchboards, elevators, transformer, cable trays, etc.

Plumbing and Sanitary System –

Pumps, water holding tanks, pool filtration equipment, Sump, sewage pit, grease and sand traps, etc

Fire Safety System –

Fire sprinkler pumps, sprinkler tanks fire shutter, smoke curtains, piping system, etc.

Outside of Building –

External works, rooftop, and external face of a building, etc.
Case Study - MEP Modeling & Coordination Services
Why Choose Our BIM Coordination Services?
We use BIM Execution Plan and BIM workflow for BIM coordination services (Autodesk's Navisworks widely used). Our BIM coordination approach provides multidisciplinary clash detection among Architectural, Structural, and MEPFP systems. As a BIM coordinator, we coordinate and communicate with each stakeholder of the design and construction team to solve all the clashes, ensuring that there is harmony between the Architectural design, Structural design, and MEPFS design. We eliminate conflicts at an early stage of design which surely provide a positive outcome on the project.
We accompany you in the entire VDC Coordination process from the very first coordination meeting to the final sign-off meeting. We run the clash detection process in Navisworks and provide a dashboard showing the clash reports of possible collisions amongst Architectural, Structural, MEPFP, and other components. Our clash reports help the design team to make a collaborative decision over the required design changes/modification.
BLOG - MEP COORDINATION - EVERYTHING YOU NEED TO KNOW
Our VDC & BIM Coordination Process
Load BIM Template
Load BIM template based on the client's standards for each of the listed trades: architectural, structural, mechanical, electrical, plumbing & sanitary, and fire protection.
Verify Architectural and Structural Model
Verify/Check the coordinate of the Architectural model and Structural model with MEP models by using "Origin to Origin" positioning approach before linking them.
Prepare the MEP Model
Prepare the MEPFP model for each of the individual disciplines and include all elements for coordination within the central file.
Run the Clash-detection
In Navisworks any two models are coordinated together and by clicking on "Run Test", it shows the "Clash Report " that occurred between the coordinated model.
Review and Resolve
After resolving clashes, we reload the cache in the Navisworks and make sure resolved clashes are in yellow, and check if any new clashes which will show up in red.
Benefits of VDC & BIM Coordination Services
With the help of Autodesk Revit and Navisworks, we help AEC professionals at every stage of design-to-construction workflow with our clash detection and BIM coordination services. With the successful experience of varied projects, we aim to facilitate this critical design process in BIM.
Identify the design interference before the construction process.
Clash detection report helps in better team collaboration between architects, structure engineers, MEP engineers, contractors and building owners.
It reduces the risk of human errors- thus reducing the amount of changes during construction process.
Achieving accurate design before the construction process can save a lot of money, time and resources.
BIM Coordination & Clash Detection Reports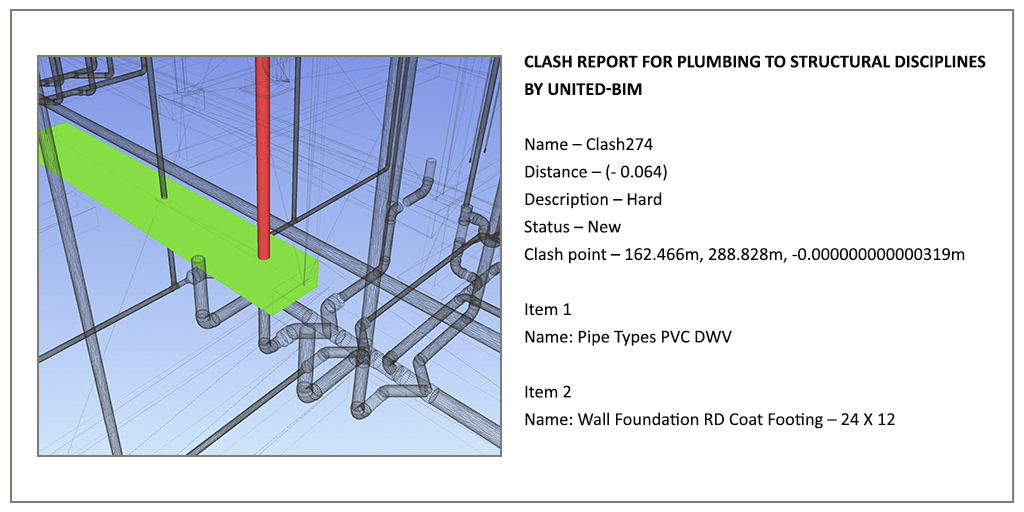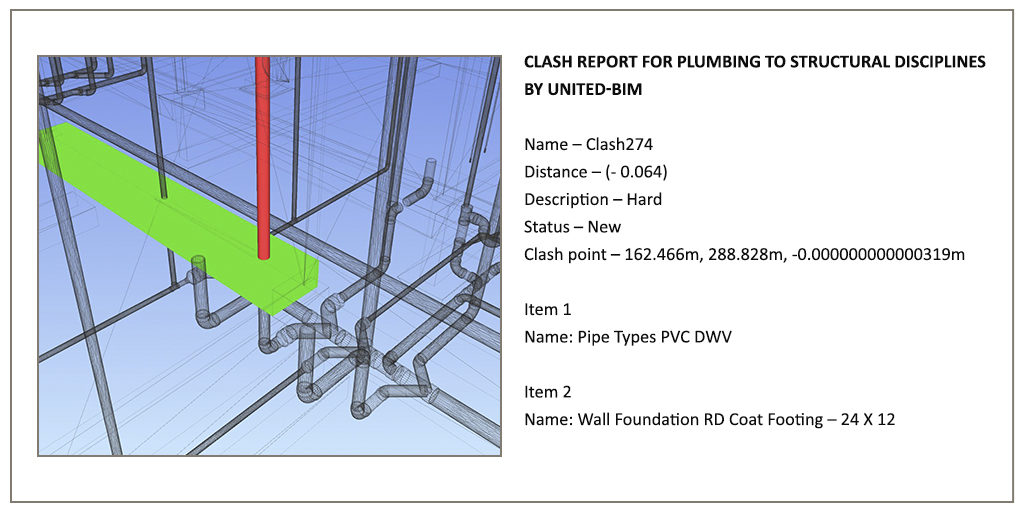 Plumbing to Structural Discipline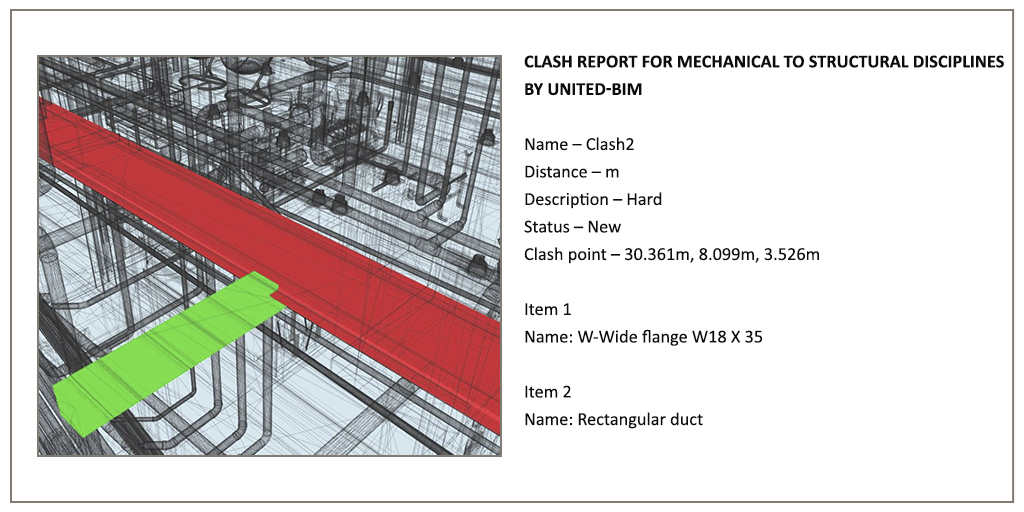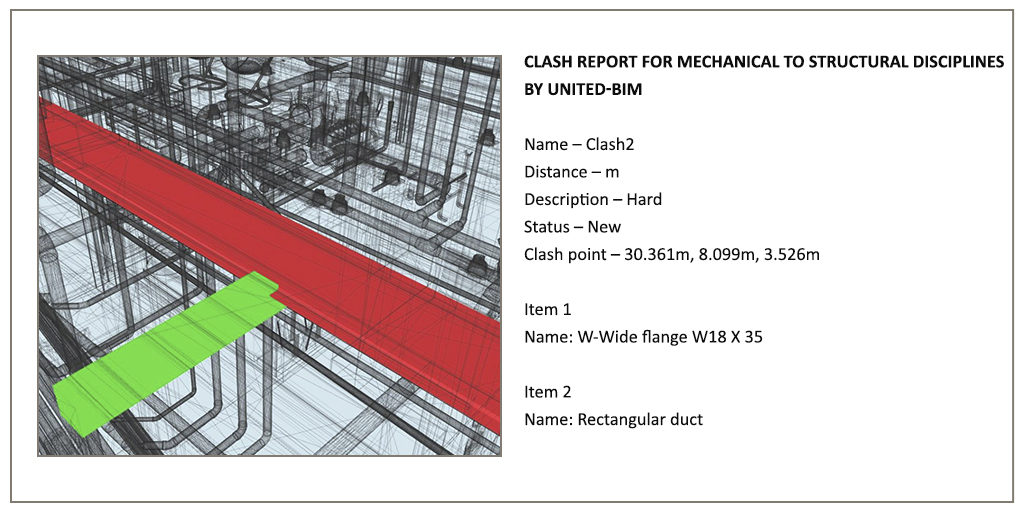 Mechanical to Structural Discipline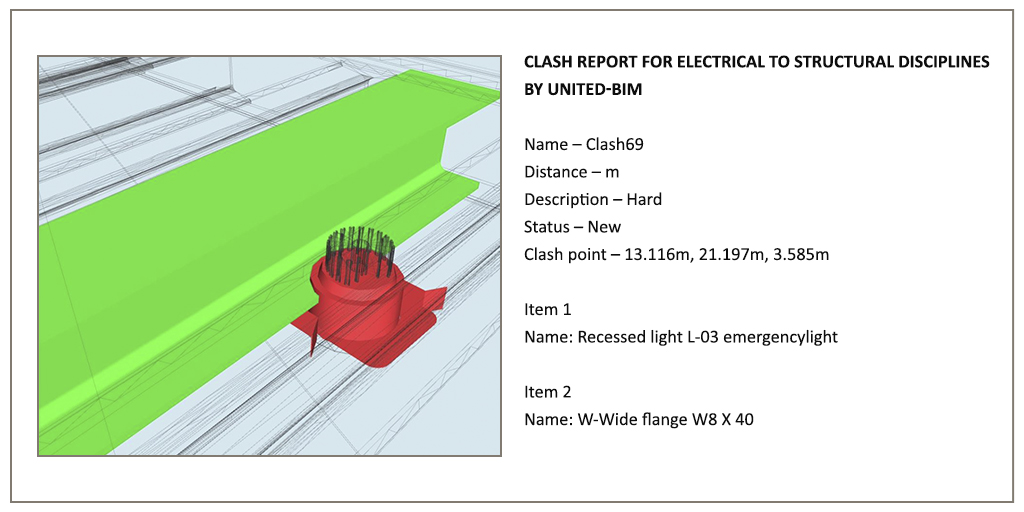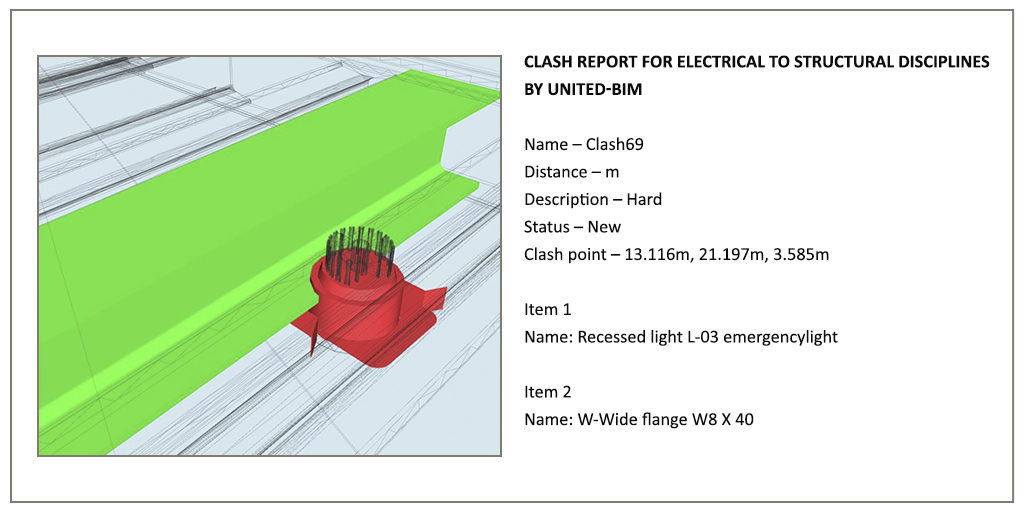 Electrical to Structural Discipline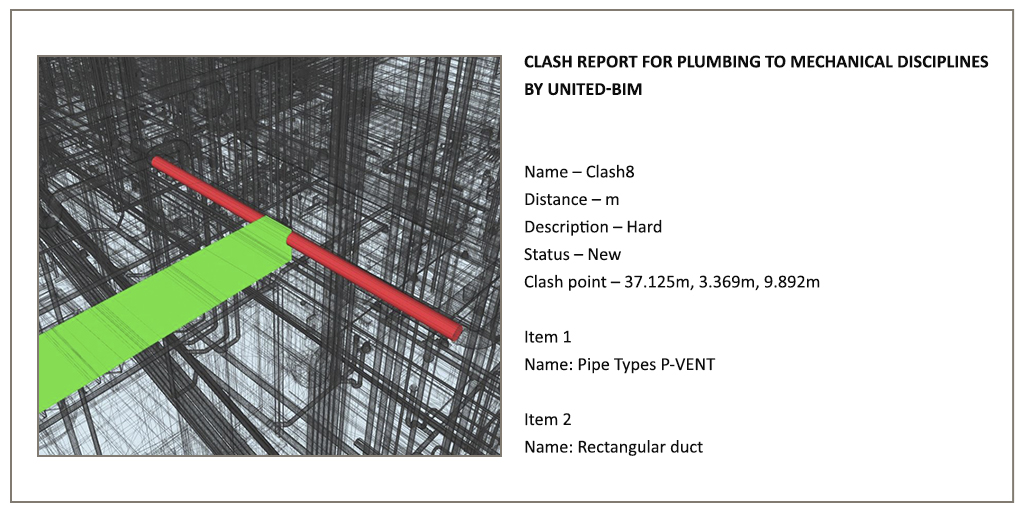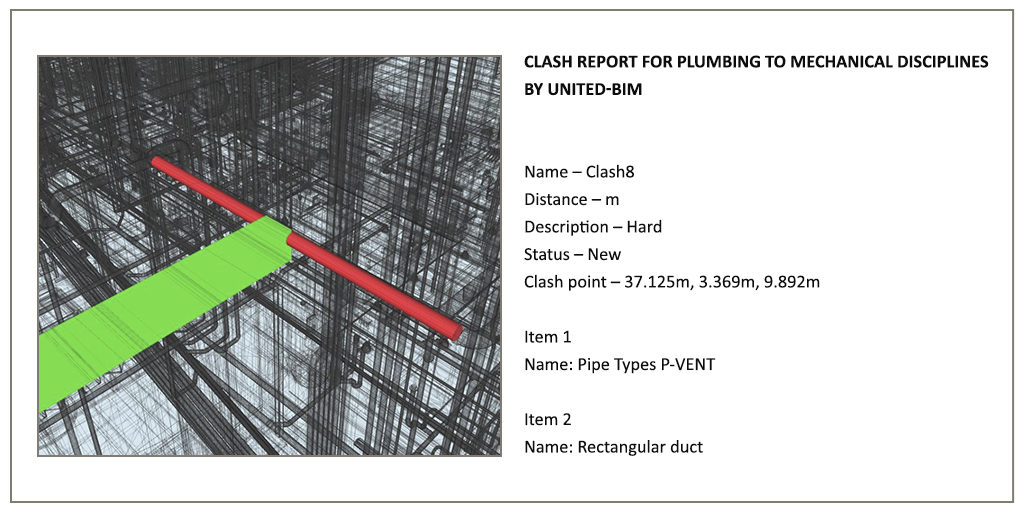 Plumbing to Mechanical Discipline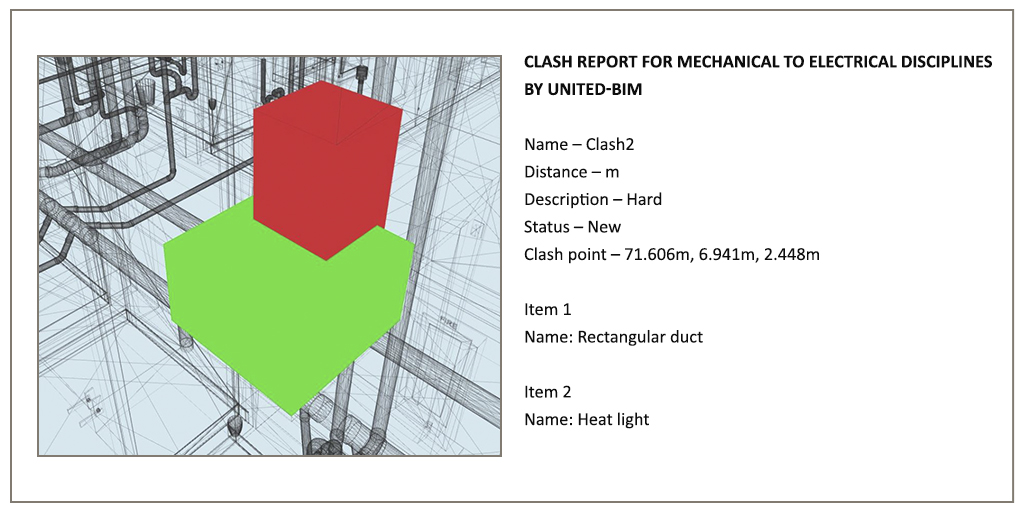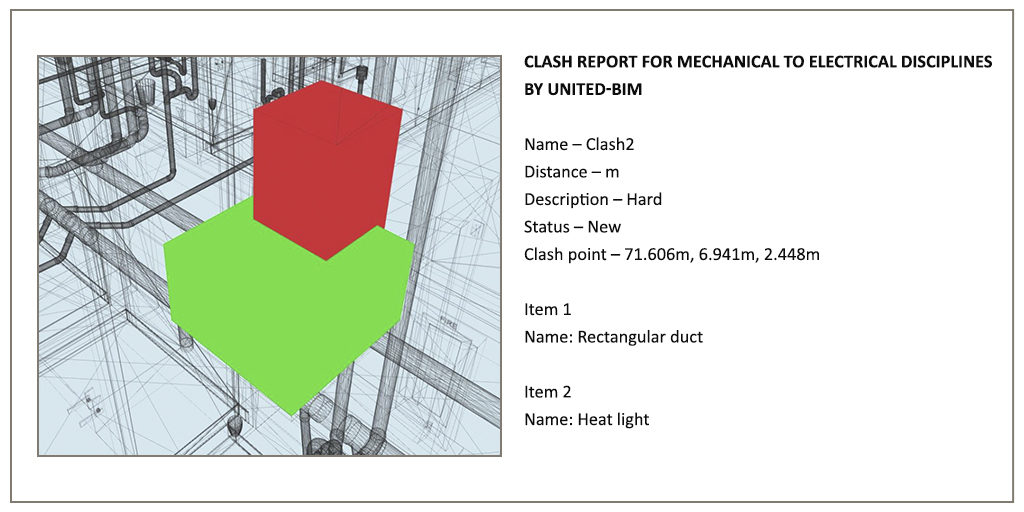 Mechanical to Electrical Discipline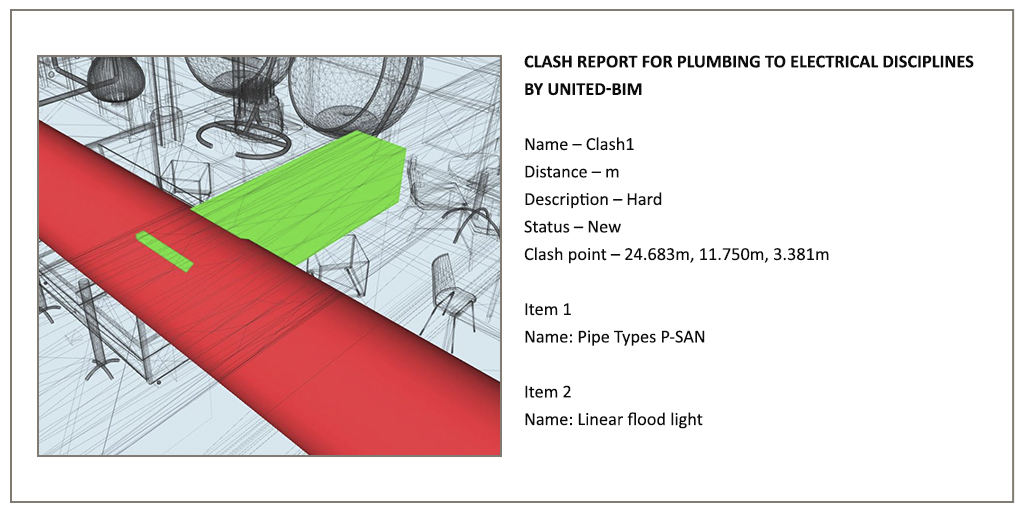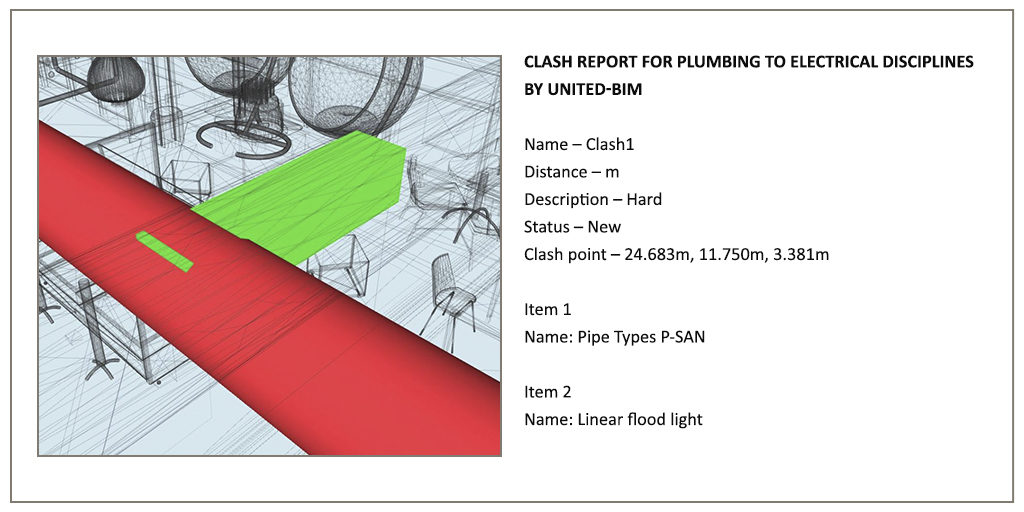 Plumbing to Electrical Discipline
Projects Delivered Through BIM Coordination Services
Featured Projects
We Provide BIM Coordination Services Across USA & Canada