MEP Outsourcing Services
Our MEP Outsourcing Services provide data-rich MEP BIM models of the various MEP systems- mechanical, electrical, and plumbing BIM models as per the design intent and as required for each design phase – schematic design, design document, and construction document. We can combine the data from the Architectural, Structural, and MEP design drawings using Autodesk's AEC Collection Package. We have hands-on experience in developing MEP BIM models by mainly using Autodesk Revit and Navisworks.
We deliver MEP BIM Models in desired Revit versions- 2018/19/20 and in 3D Revit, DWG, and IFC format (as required). We can carry out activities like MEP Coordination, Clash Detection, and Report Generation, generate quantity take-offs, develop 4D BIM Models as per the required LOD in BIM Execution Plan (BEP).
Our MEP outsourcing services aim to deliver a highly accurate and detailed 3D MEP model to MEP contractors, MEP consultants, construction firms, design-build firms, MEP component manufacturers to maximize efficiency to design optimization, detailing, quantity takeoff, fabrication, and installation of MEP building systems.
We add industry standards formulas into MEP Revit family parameters and connector parameters to do tedious calculations more accurately than manual computational. We add connector parameters into all MEP components to behave with intelligence and for multi-discipline coordination. We also consider: Where the information comes from? Where it's going? What it will do when it gets there? How it can be used?
We can also create custom Revit mechanical/electrical/plumbing families which are parametric and can have the required LOD. We embed various levels of detailing into an MEP model (from LOD 100 to LOD 500), depending upon the stage of building design, from initial MEP design (schematic design) to design development to construction documents to fabrication to the construction stage.
Why it is always a good idea to Outsource MEP Drafting Services? Read the full article.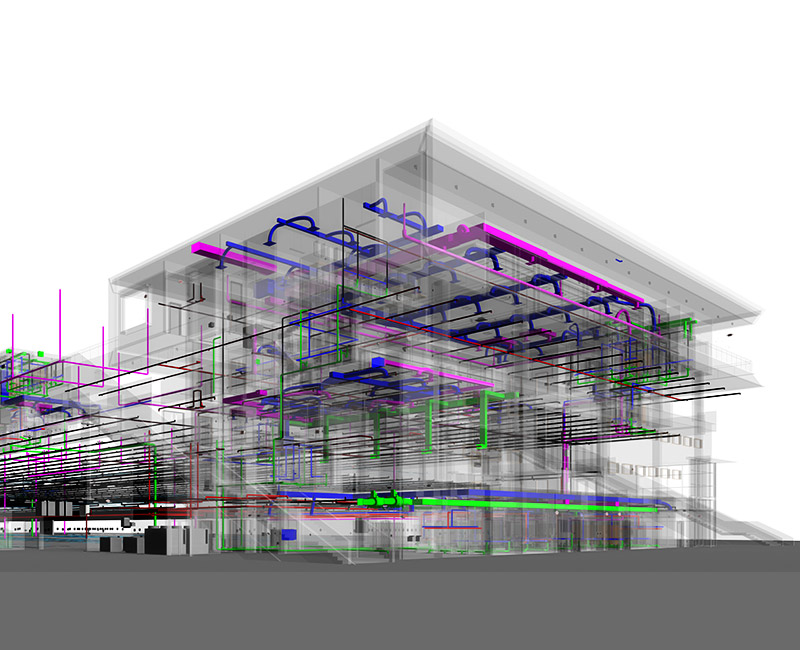 Our BIM Fire Protection Modeling Services is specialized in converting a detailed fire sprinkler design into the 3D fire protection model. We are specialized in providing the required level of details ranging from LOD 100 to LOD 500 throughout the initial schematic fire protection design to the final construction stage.
Providing MEP BIM Outsourcing Services with Quality, Speed, and a Consultative Approach
Experience
We are proud to have successfully delivered our BIM services to 1,000+ projects across all types of industries/sectors such as Hotel, Multi-Residential, Education, Commercial, Hospitals, Medical Centers, Government, Retail, Manufacturing, and Warehouse/Storage.
Expertise
Our team has rich exposure to 2D & 3D software tools such as Revit Architecture/Structure/MEP, AutoCAD, Solidworks, Navisworks, Dynamo Studio, Tekla Recap Pro, Bluebeam, Insight 360, Advance Steel, 3D Studio Max, CADMEP, Infraworks,  and Photoshop etc.
We Provide BIM MEP Outsourcing Services Across USA & Canada