Revit Family Library (aka BIM Object or BIM Content) as the name suggests is a process of creating a customized family library of building materials or products or objects to achieve many-fold business objectives such as spatial planning, design analysis, cost estimation, product selection, and facility management. The biggest advantage of Revit BIM family or library is, any change to a family is updated and permeated throughout the project file where this particular family is being used. As a result, the biggest benefit is 'Speed with Accuracy' (along with the reduced cost of failure) for the project that can be achieved with Revit Family Library.
As we all know, Revit is a Building Information Modeling (BIM) authoring software built by Autodesk. It is a design and documentation software program widely used by the AEC professionals, building product and furniture designers and detailers, and facility and asset managers.
Jeff Hanson, Sr. Subject Matter Expert, Autodesk in his blog titled "Your guide to understanding Revit Families" states that  Revit families are at the core of Revit, creating Revit Family is same as writing DNA code for an element and quoting further "Simply: the family contains the DNA of how to make an element in Revit, and when you author Revit families, you are writing the DNA code for an element. The family describes the basic geometry of the element, the behavior/relationships of the geometry, and defines the element's parameters."
At United-BIM, our Revit family creation and maintenance services provide our clients, such as architects, engineers, building product and furniture manufacturers, detailers, facility managers/asset managers, and suppliers with customized Revit families or BIM objects and we can provide the product data in the format (.rfa, .rvt, .ifc) of their choice.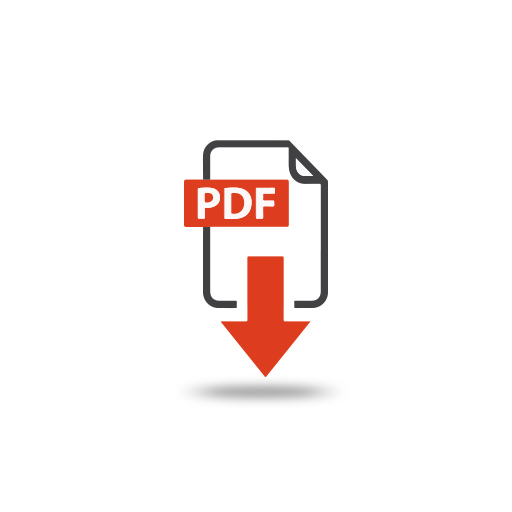 Revit Family Library for AEC, BPM, & Furniture Companies
Don't have the time to read the whole blog, no worries you can download it and read it at your convenient time.
DOWNLOAD YOUR PDF
What is a Revit Family?
Everything in a Revit is a part of a family. There are three types of families – system families, component families, and in-place families and they all fit into a clearly defined hierarchy. At the highest level of this hierarchy, are Categories – model and annotation.
Model: Walls, Windows, Stairs, Beams, Doors, etc
Annotation: Text, Dimensions, Tags, etc.
All the above-mentioned category items come in all shapes, sizes, and behaviors. Therefore, the next level of the hierarchy after Category is the Family. All Revit elements belong to a family and the best way to think about families as a collection of like items sharing the same overall look and behavior.
Families are enriched by common attributes, parameters, properties, article number (SKU), and pictorial representations. Each family can have multiple types such as different sizes, materials, parameter variables, etc.  Any changes made to a particular type are updated throughout the entire project. The concept is known as being parametrically-aligned. For example, if the height of a door in a family is changed once, heights of all the doors of the same type throughout the project get automatically updated.
BSI is providing with a BSI kitemark certification that provides assurance to specifiers and customers that BIM Objects and the associated data are accurate in their representation.
Our Revit experts embed BIM objects and metadata including product literature, standard details, technical datasheets, NBS specifications, model number, and warranty information in the product catalogs.
Download Revit Family 101 - Infographic
Download a printable "Revit Family 101" infographic. It is specially designed to explain the hierarchy and the elements in a Revit family.
Download Revit Family 201 - Infographic
Download a printable A3 size "Revit Family 201" infographic describing key design considerations & explaining the 5-step process for creating a family in Revit.
The following components are used for building a model:
Architectural: Floors, Caseworks, Windows, Railings, Furniture, Entourages, Doors.
Structural: Columns, Steel Beam Sections & Steel Trusses, Structural Connections, Steel Sections, Stiffeners.
Mechanical: Pipe- Valve, Strainer, Hanger. Duct Hanger, Air Terminal, HVAC systems with Ducting and Air Terminals, Pipe Systems.
Electrical: Switches and Sockets, Distribution Boards, Transformers, Fire Alarm Devices, Lighting Fixtures, Electrical Panels, and Junction Boxes, Recessed and Track Lighting.
Plumbing: Fixtures (Urinals, Water Closets, and Washbasins), Valves, Fittings, Pumps, Devices (measuring devices, gauges).
HVAC: Diffusers, Registers & Grilles, Fan Coil Units, Valves and Fittings, AHU (Air Handling Units).
Furniture and Fixtures: Chairs, Desks/Tables, Monitor Arms.
Types of Revit Families:
There are three different kinds of families in Revit. These families are differentiated based on parameter values, sizes, materials, or the applicability of a family. Here are the different types of Revit families:
1.
System Families
System families are the families that come predefined in the software. These families are used for the creation of basic components in a model such as walls, ceilings, and other components used for creating a structure.
As they are already predefined, they cannot be created or deleted and cannot be loaded from an external source. However, most system families can have more than one TYPE. A type is like a collection of variables like sizes or materials for a family. A family can have more than one type.
So, while you cannot load system families into templates and projects, you can add, delete and edit the types associated with each of the provided families.
2.
Loadable or Component Families
Loadable or component families are the exact opposite of system families. Here, one can create a component from scratch which can be used at a later stage according to the project requirements. These can be imported into any project and be customized according to the specific requirement without any restriction.
Custom families can speed up the modeling process as teams can quickly embed the available components in a project. Not only does this help in the creation of an accurate and standardized model but it speeds up the entire modeling process by leveraging custom Revit libraries.
3.
In-place Families
In-place families are user-defined families that include particular BIM components created for a particular project. Similar to system families, they can only be used for a particular project and cannot be saved to any other project.
Although, in-place families can only be created in a project and not as a separate family file. That allows customized creation and free-form objects in a project. In-place families are more effective when the project demands very specialized and unique design scenarios.
Who Needs Revit Families and How They are Used?
AEC Firms – Architectural, MEP and Construction Firms

Architecture & Interior Design firms: For the product selection to carry out spatial planning, functional design, and cost estimation.
Engineering Firms: For the product selection to carry out spatial planning, functional design, and cost estimation.
Construction Firms: To purchase the products as per project specs and requirements.

Building Product Manufacturers (BPM) – To provide digital models to the Architecture & Design community for product planning & selection.
Product Design Companies – To carry out a detailed feasibility study, functional design analysis, and to provide digital models to the Architecture & Design community.
Facility Manager/Asset Manager: To manage the life-cycle of installed products based on their serial number, asset tag, warranty, etc.
Revit Family File Formats
All the above-mentioned stakeholders can ask for a Revit Family in their choice of file format/extension. The different file formats in which a Revit family can be provided are RVT, RTE, RFA, RFT, IFC. A family is created in RFA (Revit Family File) file format in Revit. RVT is associated with the project files of a Revit Family. They are used to fully render 3D views in design projects & they contain various building modeling data like images, plans, sections, project settings, etc. RTE & RFT (Revit Family Template) are family templates to make a standardized template for a company. IFC (Industry Foundation Classes) is a neutral, open file format specification that is not controlled by a single vendor. It provides an interoperability solution between different software applications. The format establishes international standards to import and export building objects and their properties. The model is submitted in one of two file formats: IFC or IFX (xml format) and then converted into a Revit model.
To create a Revit Family the file can be submitted in various file formats or softwares. All the following softwares are accepted and can be converted into a Revit Family:
AutoCAD
IFC
Solidworks
Fusion 360
InfraWorks
3DS Max
SketchUp
TinkerCAD, etc.
Examples of Revit Family (BIM Objects or BIM Content):
While writing this blog, we came across a few very good websites offering free downloads of BIM objects uploaded by product manufacturers:
Key Considerations While Developing Custom Revit Families (BIM Content/Models/Objects)
LOD – Family can have level of detail ranging from LOD 100 to LOD 500 depending on the use case of it.
Data Accuracy – Since  BOM (Bill of material), BOQ (Bill of Quantity), prefabrication sets, ordering lists, takeoffs & submittals depend on the accuracy of the information, they are key considerations while designing a family.
Compact Content (File Size) – It is important for the interoperability of the files that each .rvt, .rte, .pcf, .pln, .ifc etc. file type is compact enough to transfer from one stakeholder to another or for the website upload/download
Software Type and Version – The compatibility depends on the software type & version used for the entire design project like Revit 2018 or 2019 or 2020.
Cataloging Product Family – Define the parent category and sub-categories with an option to select parameters for the product selection.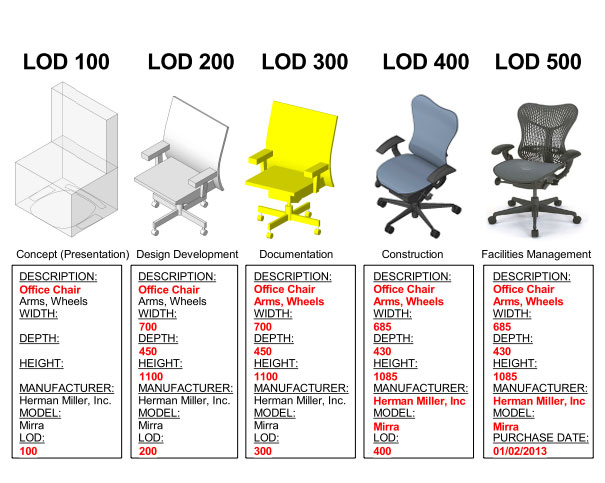 Source: PracticalBIM  (Only data in RED is usable)
For example, Custom Revit Family with LOD 500 can have the following identity data for the Facility management. Now all these data are available under the Revit Family field called "Identity Data" through custom Revit family creation. As per, Seyed Hamidreza Alavi, and Nuria Forcada Matheu (2019) following are the LOD properties for services:
Shape, Location of panel and valves, Component ID, Room Number, Room Name, Story Number, Manufacturer Name, Product Name, Type, Acquisition Date, Bar Code, Serial Number, Assembly Place, Production Year, Warranty Identifier, Warranty Start Date, Warranty End Date, Warranty Period, Contact, etc.
Now, for spatial management, they would require more data since they would be able to use the information for the physical utilization of the spaces. So, in addition to the above-mentioned data following data like Facility ID, Facility, Name, Length, Width, Height, Area, Volume, Maximum Size, Story Number, Zone/Space Name, Zone/Space Number, Room Name, Room Number, Floor ID, Floor Name, Space Volume, Room Name Tag, Glazing Requirements, Net to Gross Space Requirement, Ceiling Height, Building Story Information, space ID, Space Number, Coordinate ID, Coordinate Type, etc. (Reference: Seyed Hamidreza Alavi, and Nuria Forcada Matheu. 2019)
Benefits of Custom Revit Family Development
Revit Families can improve operational efficiency as well as the end-results. As user-defined families are highly-customizable, modelers can make use of the components as and when required, based on the needs of the project.
The parametric advantage of user-defined families is that it ensures that a project is standardized and that reduces wastage of time and efforts. Here are some benefits of using custom Revit families:
1.
Re-use of Components in Multiple Projects – Savings in Time and Effort
Professionals can use components and elements of loadable Revit families again and again on multiple projects. This means they don't have to design elements within a model from scratch, every time, saving valuable man-hours and hours of effort while working on a project.
2.
Easy Replacement of One Component with Another
Components in a Revit family can be easily replaced without disturbing other aspects of a model. A designer just has to delete a custom component of a Revit family and embed another component without having to disturb the entire project and start from scratch. As every component is saved in the Revit library, the designer can toggle between components easily.
3.
Quick Customization According to Project Needs
User-defined loadable component libraries can easily be customized using available Revit tools and components. This means that each of the components can be customized according to the specific project requirement. Moreover, the parametric nature of the Revit family ensures that the component from the same family gets updated throughout the entire project model.
4.
Better Operational Flexibility
As there is immense scope for customization of Revit family components, it empowers designers and teams to achieve the desired level of flexibility. They can cater to the personalized demands of the client and become more flexible in their approach without wasting time. They can learn from demand patterns and industry trends to create custom Revit libraries that suit their design goals.
5.
Better Models for Marketing & Promotion Purposes
One of the main advantages of using Revit family components is the standardization and uniformity they promise. Once developed, a Revit family component stays the same and can be customized throughout the project without dealing with each instance of the component, individually.
This means that the final model design is much more refined and appealing to all the stakeholders.
Wrapping Up
Custom Revit Family Library is flexible, easy-to-use, and highly-efficient for all building design and construction projects as well as for the building product and furniture design. In the modern AEC landscape that demands resilient and reliable models, all the stakeholders involved in designing a building as well as a building product and furniture manufacturers can offer a significant edge to their customers by providing custom Revit family (BIM object/Content).
References:
For those who would like to understand the topic in more detail, we recommend reading the following references