Building Information Modeling (BIM) is transforming how work is managed and done in the AEC industry as a whole. In the previous blogs, we have highlighted the importance and benefits of time and again. We have also tried to clear the dust around different BIM dimensions and it benefits the entire project development lifecycle.
Today, we are focusing on 5D BIM implementation and how AEC professionals can harness 5D BIM for improving their cost estimation and budget analysis endeavors.
5D BIM is the five-dimensional visualization of any project that consists of budgetary and cost considerations associated with the project. While 3D deals with a three-dimensional depiction consisting of geometrical and design parameters, 5D BIM allows stakeholders to understand, analyze, discover and record the impact of changes on the cost of the project.
5D helps contractors to visualize risks at an early stage and improve the decision-making process for the success of the project.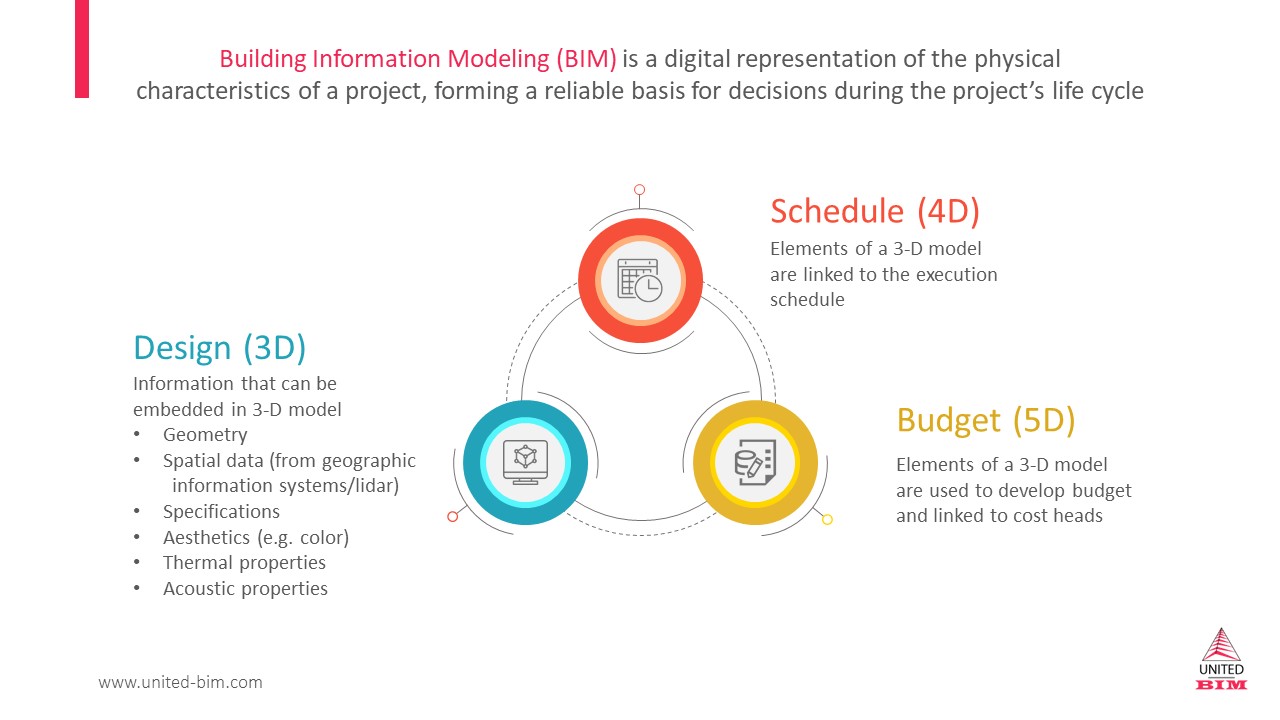 Benefits of 5D BIM Implementation
When you start investing your time and energy towards 5D BIM implementation, you get several advantages which you were missing out on, till now. 5D BIM allows linking of the 3D model to budgetary and costing heads in real-time which simplifies budgeting, speeds up decision making and makes your BIM model more accurate. Here are some of the benefits of 5D BIM implementation:
1.
Accurate Cost Estimation & Forecasting
5D BIM implementation enables contractors to create accurate cost estimates as the quantities of building components are accurately identified from 3D models. This helps project stakeholders to develop a reliable cost estimate for the entire project, right from the beginning. When the cost estimates are accurate, there are lesser chances of risks and losses due to mismanagement and miscommunications.
2.
Detailed Quantity Take-Offs
According to industry surveys, estimators spend most of their time in creating quantity takeoffs. 5D implementation paves the way for automation of the development of quantity takeoffs. This helps in saving time on BOQ generation and at the same time eliminates chances of error due to manual reasons. When the BOQ development process is automated, estimators can spend saved time on critical aspects like accessing financial risks and generating pricing models.
With 5D BIM, all the cost information is linked to a 3D model which makes it easier to deal with the problem of liquidity in construction projects. As the financial estimates are linked to the work and time, the resource quantification process becomes faster, leading to a reduction in on-site issues due to finances or frequent changes.
3.
Real-time Changes to Quantity Take-offs as per Design Modifications
Every change in any component or design impacts the cost of the project. With 5D BIM, the change in cost gets automatically reflected in the BIM model. As the take-offs and measurements are directly calculated from the BIM model, the information stays consistent throughout the project lifecycle. Also, the changes made to quantity takeoffs are updated in all the associated documents, schedules, and other measurements used by an estimator. Read in detail about the impact of BIM in BOQ & BOM generation process in this article, How BIM is Improving BOQ/BOM Generation Process
4.
Faster Decision Making Process
When cost estimation and budgeting is quick, it becomes easier for architects and other key decision-makers to make better and informed decisions, quickly. Be it a contractor, sub-contractor or owner, every decision is transparent which boosts the speed of project development and completion.
5.
Improved Collaboration Among Stakeholders
BIM is an advanced technology that allows all the stakeholders to work on a single model from various locations and devices. This means that all the stakeholders can work simultaneously and make changes together to augment the collaboration process. When everything is being reviewed and changed in real-time, the prospects of collaboration broadens and everyone in the team stays onboard the changes made to the central BIM model.
6.
Assistance in Swift Material Procurement
As 5D BIM streamlines the process of budgeting and financial information incorporation based on the BIM model, the decision making process related to material procurement becomes easier. Stakeholders like contractors can access quantity takeoffs and bill of quantities to get hold of updated material lists to speed up the process of material procurement.
Challenges to 5D BIM Implementation
Despite several advantages of 5D BIM implementation, the adoption process is slower, owing to several unique challenges and barriers. These barriers make the process of 5D BIM adoption challenging for a real-life project.
1.
Lack of Single Software Solution for 5D BIM Implementation
At present, no single software is equipped with the features and capabilities to effectively implement BIM using a single project. Generally, a team has to rely on several software and tools used during 3D clash detection and 4D simulation for embedding 5D BIM capabilities in a project, effectively.
2.
High Cost of Implementation
5D BIM requires contributions from key personnel on a project including all the stakeholders. This takes an enormous amount of time initially as everyone has to be brought on the same page. The longer it takes for a project to initialize, the higher is the cost. Also, 5D adds another step during initial planning, increasing the time window again. When project management sees an increase in time and cost, they are opposed to the idea of 5D BIM adoption.
3.
Change Management
The biggest challenge is to prepare teams for a changed workflow convincing them to adopt the change. Any human is aversiveness to change, in general. Incorporating 5D BIM through new software tools requires existing team members to learn new skills and work on an entirely new domain, which makes them wary of future implications.
At the same time, most software tools that have 5D BIM implementation options require a high degree of expertise to master for real-life implementation. This requires teams to learn new things and be trained from scratch, making the 5D BIM implementation process harder.
4.
Increased Risk Exposure
Using 5D BIM models increases the risk of all the stakeholders. There is a massive debate on legal issues such as the ownership of the BIM models, the right to accessing information in BIM models and who is in control of the information. Moreover, the accountability of a stakeholder in case of error is diluted in a collaborative environment such as 5D BIM. This increases the risk of a stakeholder concerning the damages, in case they occur, which discourages companies to use 5D BIM.
5.
Incompatibility with Industry Standard Cost Planning Formats
There is a huge gap between the available 5D BIM practices and the industry standards for cost planning in several countries around the globe. The industry-recognized cost planning format is not entirely compatible with 5D BIM practices. Generally, BIM models are prone to design errors and omission of important information, which makes the cost estimates inaccurate.
Wrapping Up
5D BIM implementation can bring unprecedented efficiencies to the project lifecycle and solve costing and budgeting-related issues at a later stage. Despite the challenges associated with 5D implementation, the process can be extremely fruitful for a project's future. At United-BIM, we believe in harnessing the latest methodologies like 5D BIM to make your project development journey better and your construction process more efficient. Discover more benefits of 5D implementation today by getting in touch with our experts.