Autodesk Revit is a modern software solution to create accurate construction schedules, cost estimates and shop drawings. With a host of professional features, Revit makes it easier to develop reliable shop drawings using its comprehensive tools, intelligent objects. Using Revit, drafters can design and use a dynamic database, making the software quite useful for the AEC industry.
Autodesk Revit can be used for managing structural, mechanical, architectural, MEP, and BIM needs for the entire AEC methodology. In this blog, let's focus on some of the advantages of using Revit for generating shop drawings and how you can achieve high-grade efficiency and accuracy in your shop drawings with Revit. Let's briefly understand what are Shop drawings.
What are Shop Drawings?
Shop drawings are the drawings related to pre-fabricated components, describing how they should be manufactured or installed. They have design intent drawings and specifications prepared by the design team and show the details how the component will actually be fabricated, manufactured, assembled or installed. Think of shop drawings as the step by step "assembly manual". Shop drawings are usually prepared by contractors, sub-contractors, suppliers, product manufacturers or fabricators.
Shop drawings can be prepared for elements like structural steelwork, reinforcement, building services equipment, lifts, appliances, ductwork, piping, plumbing, windows, cabinets, electrical and data layouts, fire protection, and so on.
Read more about our Shop Drawing Services, and let us know how we can add value to your project.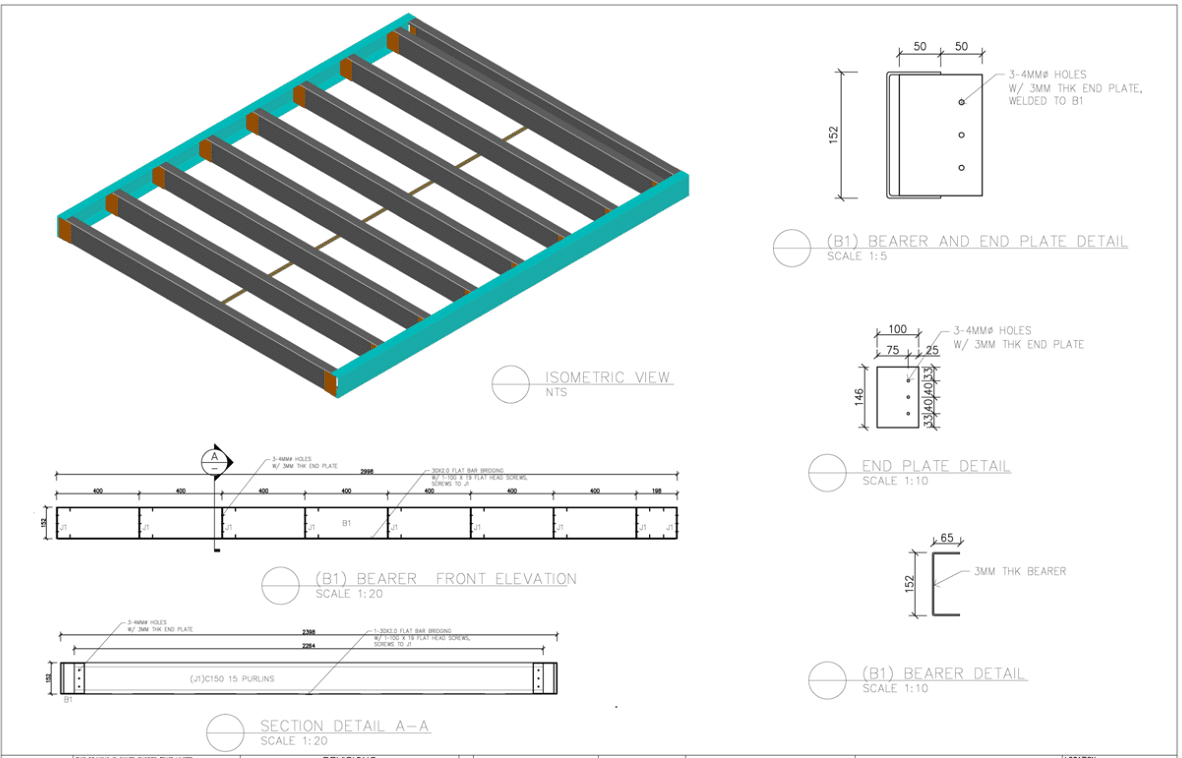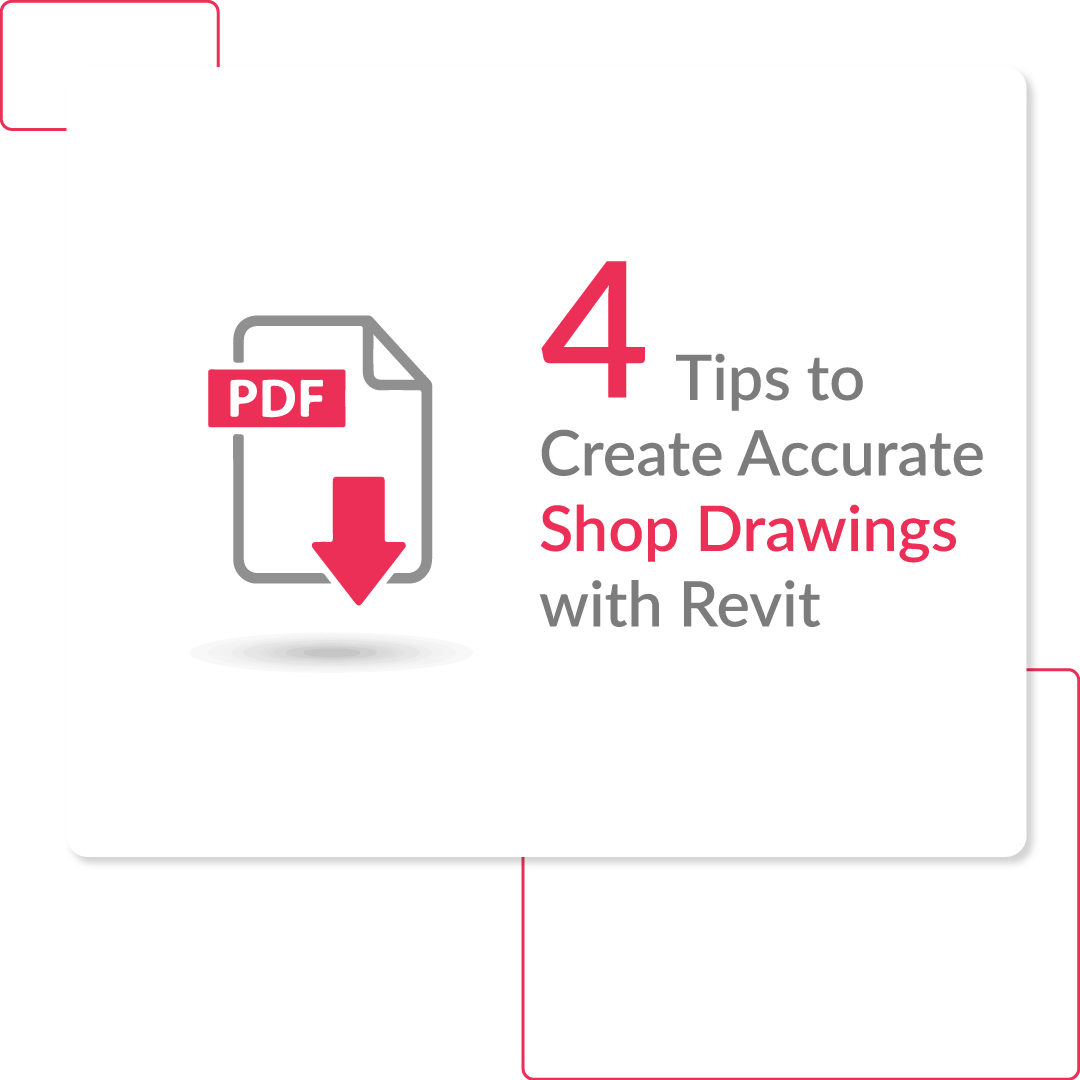 Don't have time to read the whole blog right now?
No worries. Let us send you a copy so you can read it when it's convenient for you. Just let us know where to send it.
DOWNLOAD YOUR PDF
Advantages of Using Revit
Extensive Building Component Library
Revit has an in-built library of parametric building design components. This makes the job of shop drawing easier for the drafters. The pre-existing or previously designed component is saved in the repository which can be reused time and again according to requirements. This saves enormous amounts of time and valuable resources. Find out how you can extend this useful feature and build your own custom Revit family library for higher operation speed.
Download Infographic On Revit Family 101
Download Infographic On Revit Family 201
Easy Drafting of Detailed Documentation
Without extensive and clear documentation, no shop drawing is really useful for a client- be it a fabricator, supplier, or contractor. Revit makes it easy for designers to quickly create credible, detailed, and accurate documentation that adds required value to the shop drawing process.
Quick Changes without Repetitive Work
Autodesk Revit can manage several project changes during the early stages of the project, efficiently. Different components of the design, for example, the plan, elevation, sections, etc. are interconnected in Revit, ensuring that a single change is reflected throughout the model without needing to manually change every component.
Flexible and Versatile Accessibility
Revit is an extremely versatile software package that supports import and export to a large number of formats like JPEG, DGN, DWG, DXF and PDF. Also, the software allows saving the entire project data into a single project file which makes management easier. Also, several users can work on the same project file at the same time with the provision to merge changes at every step. All this enhances the productivity and flexibility of the design team.
Subscribe to Our Newsletter
* We don't share your personal info with anyone. Check out our Privacy Policy for more information.
Useful Tips to Create Accurate Shop Drawings with Revit
1
Start with the right Revit Assembly Codes
Before you begin with actual designing and drafting, you need to configure the right Revit Assembly Codes. Assembly codes define how the construction information will be arranged based on the fundamental functional elements. This is essential to ensure that the codes match your content plan for all the components.
2
Never overlook the height and width parameters
While designing a shop drawing, you should never ignore the height and width parameters of all your components. Even when you are working on a project where the Revit Family is not parametric, you should include both of these parameters, especially when you are designing custom doors and windows.
Explore Our Revit Family Creation for Designers and Manufacturers
3
Focus on the walls
While embedding walls in your shop drawing, you should never use generic walls. Instead, you should always ensure that the wall offsets comply with the design intent. Add a designation, type name, and other information to all the wall types to make it easier to differentiate between various wall types in the drawing.
4
Use Revit beam families to create custom beams
When you are working on custom beams, always use the Revit beam families to ensure that everything within your drawing is accurate. It is always advisable to use some family instead of working with orphan elements and components.
Conclusion
Autodesk Revit is a powerful software for designers and drafters looking to improve their shop drawings. At the same time, using Revit ensures that a project is sealed for successful implementation owing to detailed information and documentation.
At United BIM, we leverage Autodesk Revit's capabilities to create robust, dynamic, and accurate shop drawings for AEC projects. If you are interested in accurate drafting of shop drawings for your project, get in touch with our experts today.
Architectural BIM Services