When larger contracts and construction projects are being executed, subcontractors are often called in for providing a highly specialized set of services. These services may wary from plumbing, electrical wiring, roofing, glass installation, pre-fabrication or even more intricate responsibilities. Their service contracts are clearly laid out as they are brought in and the general contractor or the prime contractor is their only point of contact.
With BIM for subcontractors in place, many of those facets are changing now. General contractors who have integrated BIM into their process are now looking for excellence partners in their team, not just vendors. Some contractors were happy being smaller parts of larger projects; but BIM has opened new doors for them to act as partners in the project. And it makes total sense.
The payments and terms of work are usually flowing from the lender to owner to the general contractor to the subcontractor. If the subcontractor is ready to integrate BIM into her process, she becomes a part of the singular team instead of being at the receiving end of the hierarchy.
The major issues that most subcontractors face are delays in cash-flow, ambiguity with service levels, resource loss and vulnerability to change orders. With BIM for subcontractors, they can get a greater control of these variables:
1. BIM Makes Your Services Marketable.
The market for BIM will touch over $15 billion by 2027, from $5.2 billion in 20191. This means that more and more clients, general contractors, consultants, lenders and owners are making BIM a key part of their process.
General contractors have to be the early adopters since BIM helps them with presenting, managing, executing and handing over the project. Now, most subcontractors are dependent on word of mouth to get their next assignment. But with BIM for subcontractors, you will be ready to integrate as a key part of the puzzle of any major construction project.
The biggest advantage that BIM can provide to your services is differentiation. Most subcontractors who specialize in a niche set of services can stay relevant without BIM, for a while. But the ones who want to grow with the market, should have BIM capabilities. Thus, by becoming a part of the early wave of adoption, you are communicating to general contractors and clients that you can institutionalize your process and deliver the standard of quality they are seeking.
Related Blog: The Ultimate Guide to Getting Started with BIM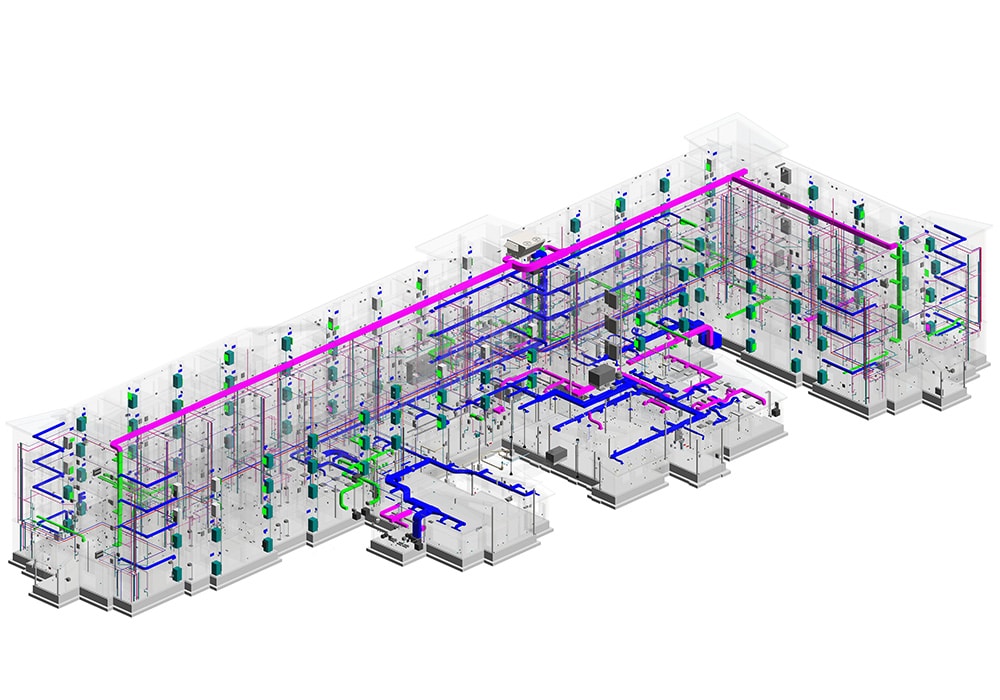 2. BIM Allows You to Understand Your Deliverable in the Context of the Larger Project.
The biggest hurdle in the growth of a subcontractor's business is the very skill that gets her the business – her expertise in one set of services. Generally, subcontractors are called in for a very specific set of duties to be performed. As soon as they are done, they move on to the next project and the proprietor starts focusing on collecting the payments. Before you know, it becomes a process of rinse and repeat and you are branded as a specific type of subcontractor.
The subcontractors who have grown from offering one service to a set of services are those who have adapted to growth. Becoming a part of the BIM team makes you responsible for providing certain data, feedback and deliverables on the basis of the model. This is where you get to see – how will your work get utilized in the larger scheme of things. A subcontractor who wants to grow will be able to sense how to mould her services in order to aid the project's development speed. This will make her a partner in the project, instead of being painted as a replaceable vendor who provides only what she is asked to deliver.
3. BIM Empowers You to Raise Red Flags in Time.
As soon as you are a partner in the process, you can start looking at how the on-site project flow. BIM helps you visualize this with all the information in one place – Common Data Environment. You can analyse the design and structure that will impact your work. This helps you plan for the resources you will need or the specialized suppliers you will have to partner with. But more than that – it allows you to evaluate the work of other teams, which may impact your output quality.
Many subcontractors complain that they were pushed out of the project for someone else's mistake, which flowed into their work. They seldom have a moat to protect their interests because they are often considered vendors in a large project. With BIM for subcontractors, you will be able to assess the work that serves as a platform for your work. If you see any red-flags, you can point them out before anyone sets foot on the site.
This helps you save resources, reduces change orders and adds significance to your role in the development team.
4. BIM Helps You Optimize Your Resource Allocation to the Project.
As soon as you are done with pointing out the red flags and getting them fixed, the only issue you will be worried about are the change orders. SPVs, lenders, owners and even general contractors have turnkey contracts protecting their interests, if something goes off. As a smaller subcontractor, you may not have the exact terms in the contract.
The problem with change orders is that they are communicated slowly. No one wants to accept who was responsible for the issue. The root-cause analysis takes time. Then, everyone submits a revised schedule on which the general contractor goes back and forth. And before you know – you have already lost a few, valuable labour hours or other resources. subcontractors are often working on thinner margins and any major blow to the change order can cause a trickle down effect that eats up their margins.
BIM for subcontractors protects you from such issues. Since the data is flowing between teams, as soon as there is an issue, everyone in the team will get to know about it. Not just this, attributing the issue to the due party is also easier with BIM. But more than that – BIM gives you the update in time, to help you organize your resources to meet the schedule. Whether that is temporary engagement with other work, or withdrawal from other projects – you will get enough time to decide.
5. BIM Gives You Strategic Insights.
Finally, as you deliver on your mandated duties, you will get to pick up strategic insights about the project. You will get to partner with subcontractors with bigger invoice sizes and see their processes. Not just this, since you know how your contribution helps the project, you will know what complementary and supplementary services you should start offering now onward that will provide incremental topline growth at nominal costs. BIM lends you a direction that you can use to add new offerings in your portfolio and become a key player in the market.
Wrapping Up
All three methodologies have their own merits and applications in the modern AEC industry. While 3D CAD is an older methodology, VDC is shaping the future. When it comes to project management and collaboration, BIM is still used by all major commercial projects, at present. Eager to know more about the similarities or differences and which one would be suitable for your next project? Engage in an insightful discussion with our experts at United BIM, today.