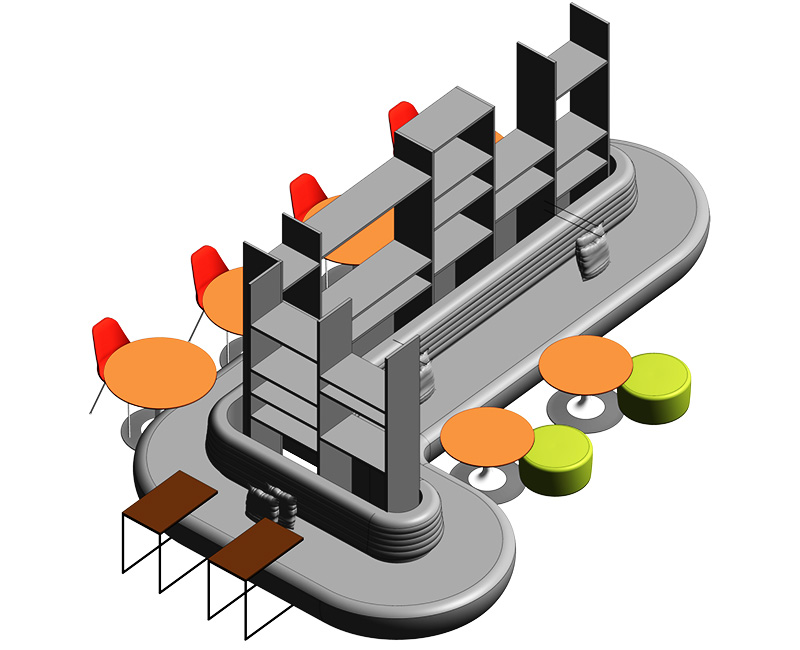 Revit Family Creation for
Furniture Manufacturers & Designers
Deliver dimensionally accurate and fully parametric Revit Families/BIM Content in minimal file size, with Level of Detail (course, medium, fine) and with higher degree of visual fidelity
DOWNLOAD BROCHURE
Our Revit Family Creation Services Include All Types of Furniture
Office Furniture
Desks | Office Chairs & Seating | Bookcases | Filing & Storage Cabinets | Printer Stands | Safes | Laptop Carts & Stands
Bathroom Furniture
Cabinets and Shelving | Double Sink Vanities | Single Sink Vanities | Linen Cabinets | Floor Cabinets | Shower Benches and Stools | Medicine Cabinets
Kitchen & Dining Furniture
Dining Tables & Seating | Bar | Kitchen Islands & Carts | Sideboards & Buffets | Display & China Cabinets | Baker's Racks | Food Pantries | Wine Rack
Living Room Furniture
Sofas | Sectionals | Coffee Tables and End Tables | Chairs and Seating | Ottomans & Poufs | Cabinet and Chests
Entertainment
Entertainment Centers | Media Fireplaces | Media Storage | TV stands | Home Theater Seating | TV Wall Mounts | TV Armoires | Flat Screen Mount TV Stands
Baby & Kids Furniture
Kids Playroom | Kids Bedroom | Nursery | Baby & Toddler Play | Teen Bedroom | Teen Lounge
Outdoor & Patio Furniture
Outdoor Seating & Patio Chairs | Outdoor Tables | Outdoor Umbrellas | Patio Furniture Covers | Small Space Patio Furniture
Bedroom Furniture
Beds and Headboards | Bedroom Sets | Dressers and Chests | Nightstands | Armoires & Wardrobes | Mattresses | Makeup Vanities | Vanity Stools | Bedroom Benches
Game Room Furniture
Pool Tables & Accessories | Shuffleboard | Table Tennis Tables & Accessories | Multi-Game Tables | Foosball Tables | Dartboards, Cabinets & Accessories | Indoor Basketball Games | Hockey Tables | Tabletop & Board Games
Revit Family Creation for Furniture Designers & Manufacturers
Our Revit family creation services enable furniture manufacturers & designers to deliver fully parametric & lightweight Revit family files with a higher degree of visual fidelity for all types of furniture, fixtures and equipment to their end clients like architecture and interior design companies or consultants and also for their own manufacturing use as well.
Our services allow furniture manufacturers and designers to spend more time on the product design and clients while we develop 2D/3D AutoCAD (.dwg, .ifc etc.) and 3D Revit files as per the following requirements.
Fully parametric – to coordinate product elements & change management
Category – include categories and sub-categories
Details – include coarse (LOD 100-200), medium (LOD 300) and fine (LOD 400-500) level of details to support various views, simulations/visualizations, & for the BOQ/BOM calculations
Views – include plan, 3D, elevation, cut-out views to support 2D/3D floor plans, simulations and furniture manufacturing
Lightweight – to speed up design work by reducing project file size and save time for web/FTP upload/download
Types – Revit (.rfa), 2D/3D AutoCAD (.dwg), IFC
Version – AutoCAD & Revit 2018/2019/2020/2021
Visual fidelity – higher degree of exactness for the project design visualizations (walk-through and flyover) & manufacturing of the furniture products
Metadata – include materials, connectors, associated accessories, finishes, identity data
Revit project performance depends on Revit family visibility settings hence we can develop family with three level of details – course, medium, and fine to support 2D construction and 3D visualizations views.
2D Construction View for Plan & Elevation
Coarse (LOD 100-200) – include an outline or a dot so only footprints are visible
Medium (LOD 300)  – include additional lines and graphics
Fine (LOD 400-500) – include full details, product tags and snapping points
3D View for Walkthrough, Flyover, Manufacturing
Coarse (LOD 100-200) – include a dot or an outline with minimal elements to decrease the demand on the graphics cards while navigating projects in 3D
Medium (LOD 300) – include additional elements to make product identifiable
Fine (LOD 400-500) – include fully detailed elements that emulate all the visual fidelity and finish subdivisions of the furniture.
Meta Data used for Revit Family Creation
Visibility
Product Configuration Options
Accessories Options
Identity Data
Manufacturer Name
Product description & Web URL
Copyright
Model No.
Category
Product Tag
Product Weight
Dimensions
Length
Width
Height
Depth
Geometry
Diameter
Materials & Finishes
Material Finishes
Color Choice Finishes
Our Design Practices While Developing Revit Family for Furniture Designers & Manufacturers
Commonly found concerns
Through our best known practices we address the 3 biggest concerns associated with Revit Family:
Stability – Revit family visually "falls apart" when switching between the Family Types.
Dimensional accuracy – Revit family has incorrect dimensions such as length, width, height
File size – Family file size becomes too heavy impacting project performance and file exchange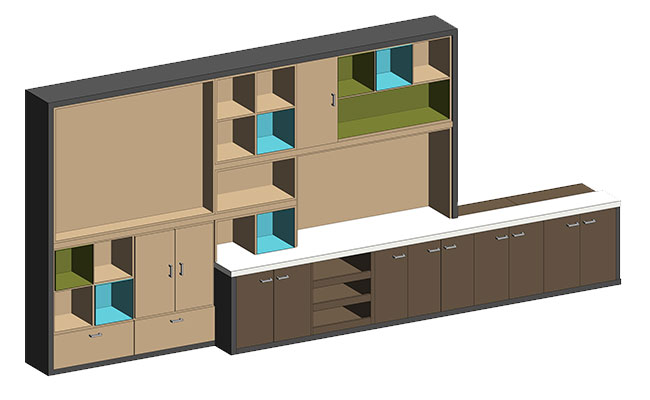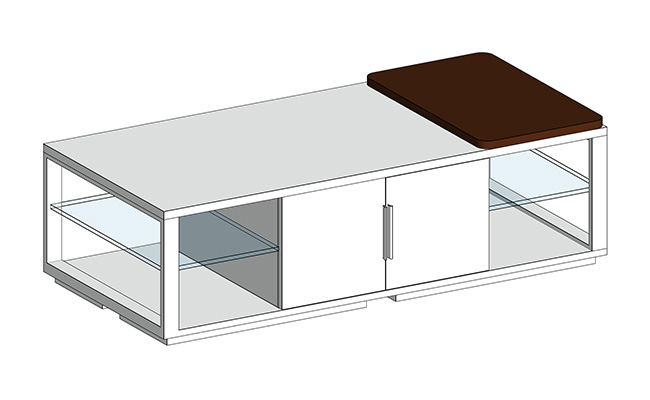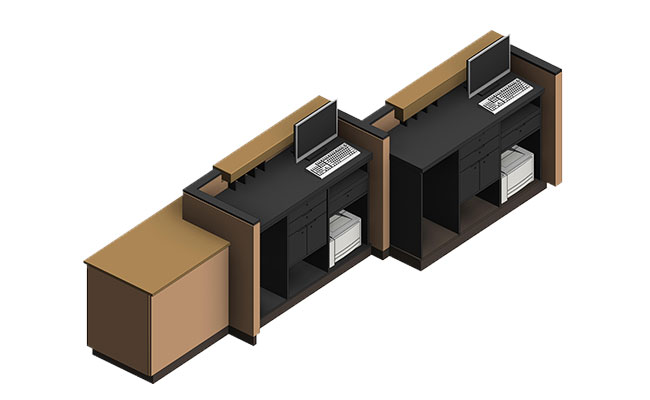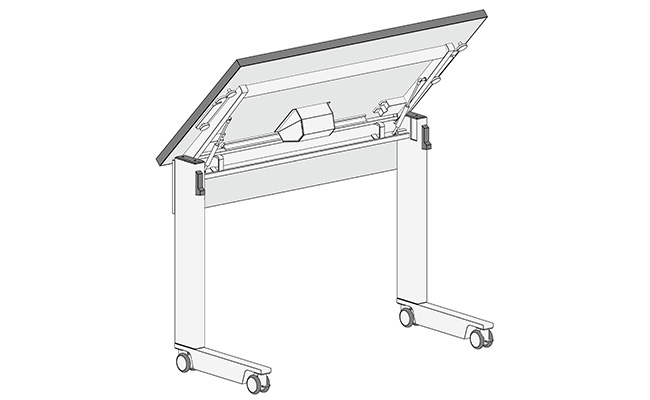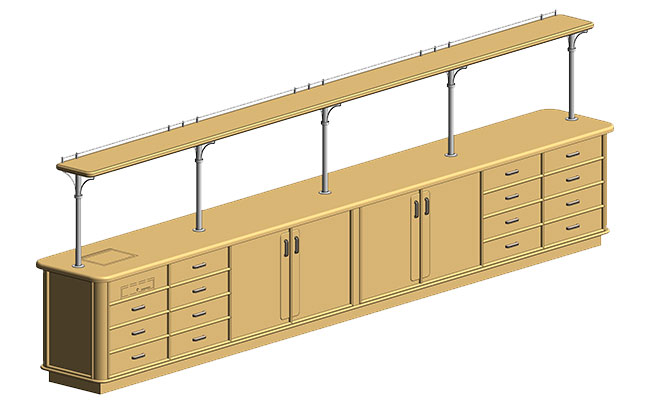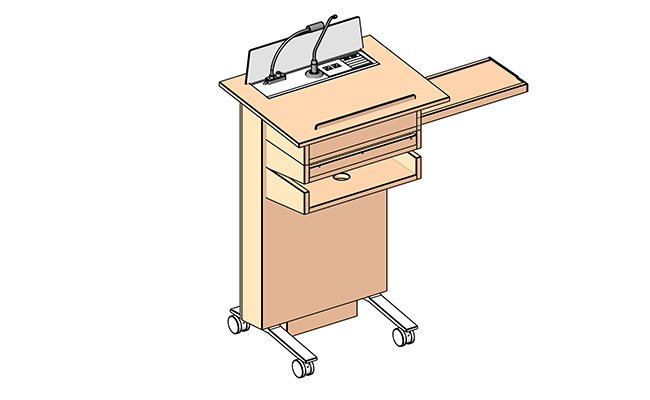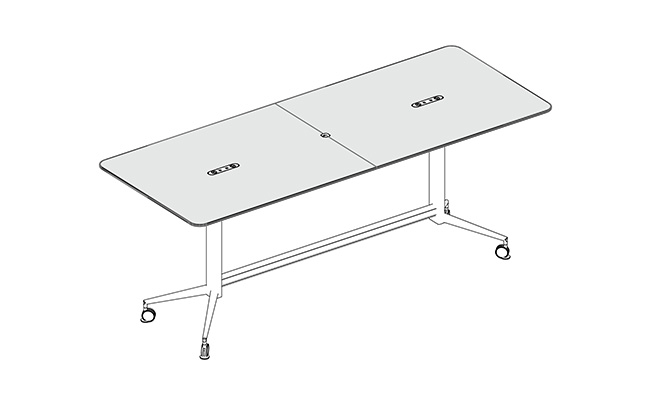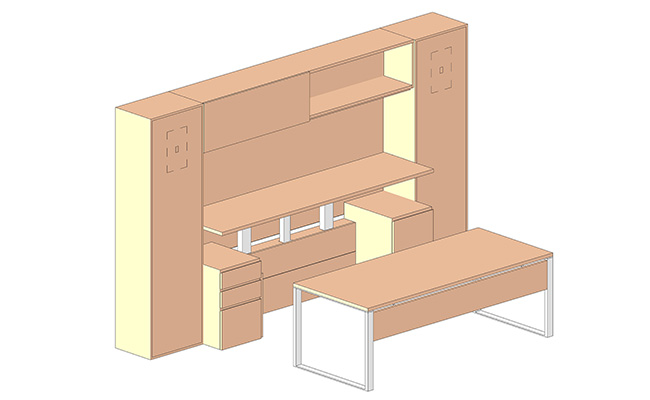 Good design practices that we follow
Lean family template – develop custom "lean" Revit family templates to reduce overall file size
Product variations – create a family type catalog (.txt) if product has more than 5 variations otherwise build the Family Types directly into the Revit Family
File size – create lightweight families from scratch
LOD – include 3 levels of detail: Coarse (LOD 100-200), Medium (LOD 300)  & Fine (LOD 400-500)  in family components
Test –

Visibility test – test a family within a Revit Workset – configured project to verify visibility, project performance and coordination
Dimensional test – make sure every Revit family is dimensionally "flexed"

Standards – embed industry standard metadata –

MasterFormat Title & Number, OmniClass Title & Number,
Assembly Code/Uniformat Classification Code,
LEED Credit / Recycled Content Parameters,
ADA / Barrier Free Certifications, ANSI, UL. etc
LET US KNOW HOW WE CAN ADD VALUE TO YOUR REVIT FAMILY CREATION NEEDS