Building Information Modeling (BIM) has revolutionized the entire AEC industry owing to the promise of seamless coordination. BIM can handle the complete lifecycle of a construction project from the planning stage to demolition.
Earlier, after a project is completed and handed over to the client, often, facility managers struggled to understand the different installations, layouts, and other aspects using manual methods. BIM brought entire updated information on a single model that is easily accessible, any time.
Managing and maintaining the accuracy of data associated with various operational aspects is the key to effective facility management. An able facility manager should know all the assets and have the knowledge of how to fix things, resolve issues and take care of maintenance needs of different fixtures, installation, and equipment around the building.
BIM in facility management helps to anticipate various maintenance requirements and other operational requirements. Managers can get a clear idea of ongoing upkeep costs and check when equipment requires maintenance. The as-built documentation received on handover is one of the strongest tools for a facility manager in the age of BIM.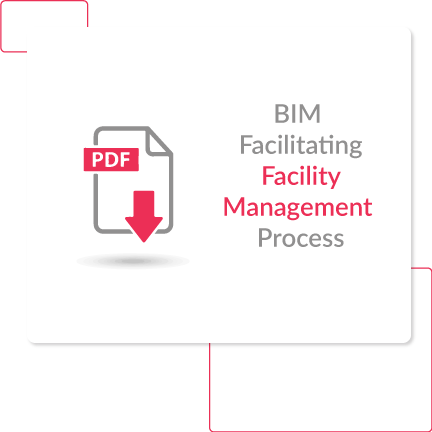 Don't have time to read the whole blog right now?
No worries. Let us send you a copy so you can read it when it's convenient for you. Just let us know where to send it.
DOWNLOAD YOUR PDF
Benefits of Using BIM for Facility Management
Building Information Modeling (BIM) has lots of benefits for the entire AEC industry- particularly for architects, contractors, project promotors and facility managers, too. When it comes to facility management, BIM promises the following benefits:
• Improved space management
BIM model allows fuller utilization of space as it is easier to visualize the entire building, even before a project is complete. This gives ample time to facility managers to plan things out and make the most out of the available space.
• Enhanced operational and facility management capabilities
BIM allows the storage of all critical data on a single model. This means managers don't have to browse manually through piles of documents, which are often, hard to locate and comprehend. Owing to the ease of access and simplified structure of facility management data, facility managers can quickly find documentation and speed up maintenance and general administration operations.
• Cost efficiency
BIM enables cost efficiency in maintenance and general building operations. As BIM incorporates sustainable practices and energy efficiency aspects, it brings down the general operating costs. BIM also improves the financial forecasting process associated with maintenance as everything is documented, beforehand.
• End-to-end as-built documentation for future renovation and maintenance
BIM allows facility managers to compare real equipment with 3D models and create a detailed plan of action. Be it maintenance or renovation plan, BIM can facilitate the future planning process owing to detailed as-built documentation.
• Improved collaboration and flexibility
The primary premise of BIM is to enhance collaboration and improve communication between various stakeholders. For the facility managers, this means that they can access all the technical documentation and collaborate with different stakeholders for maintenance operations.
Subscribe to Our Newsletter
* We don't share your personal info with anyone. Check out our Privacy Policy for more information.
Ideal Facility Management Process Using BIM
Facility management is a comprehensive and time-consuming process. With the help of BIM, the facility management process can be simplified beyond measure. To make the most of BIM, managers can follow the below-mentioned process:
Step 1: Planning
This step involves an analysis of the current systems, building a strong team and collating all the data essential for future facility management endeavors.  This step includes the following phases:
Phase 1: Analyzing current facility management systems, processes, and people
Reviewing Current Systems and Processes
Identifying Key Operation and Management Personnel
Conducting Surveys and Reviews
Collating Existing Data
Phase 2: Identifying goals
Identifying Facility Management Opportunities
Identifying Categories, Properties & Assets to Track
Step 2: Designing
This step involves creating facility management standards and plans and includes the following:
Phase 3: Standard development
Evaluating Platform Options
Establishing Processes and Platforms
Determining Translation Tool, if required
Creating Standards and Deliverables
Step 3: Operations
The operations part involves implementation of the facility management plan and reviewing everything from time to time.
Phase 4: Facility management plan execution
Developing FM Platform
Collecting BIM Data
Integrating Available Data
Migrating Existing Data
Training Facility Management Staff
Phase 5: Evaluation & improvement
Documenting Lessons Learned
Repeating all the phases in continuance
Bridging the Gap Between Needs of Facility Owners and Building Contractors
Building Information Model (BIM) is a powerful process that can take care of all the issues during the entire lifecycle. In fact, BIM bridges the need gap between architects, contractors, and facility owners.
Earlier, facility managers found it difficult to coordinate with different stakeholders to get hold of as-built documentation and developing various procedures. With a central BIM model, facility managers can easily manage everything without much effort.
Facility managers can improve the process of strategic maintenance planning and at the same time help architects in understanding the needs of facility managers, after project completion. As the main benefit of BIM is collaboration, BIM augments the need gap analysis and plugging in the gaps.
Wrapping Up
BIM definitely improves the entire facility management process. With an integrated BIM model, facility managers can boost maintenance efforts throughout the complete lifecycle of a building. United BIM facilitates the creation of maintenance-ready BIM models that can be put to use from day one of handover. If you are looking to leverage BIM for facility management, get in touch with our experts now.