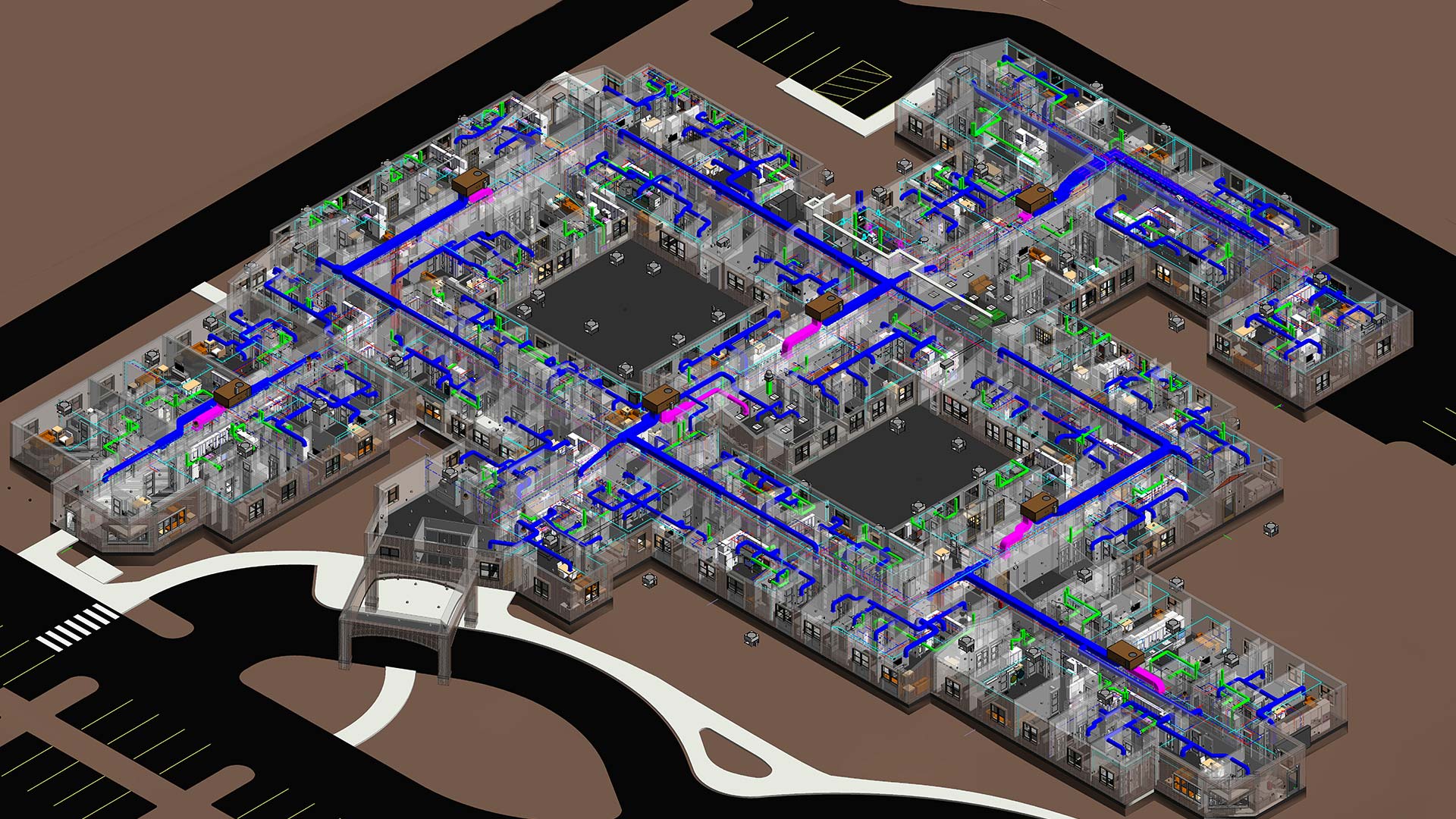 Develop BIM Model and Clash Coordination for Multi-family Apartment Renovation
BIM Modeling and MEPFP coordination services for existing conditions of building to 46 units multi-family residential Apartment project.
Project Name :Ellis Manor Multi-family Residential Apartment
Project Location :210 George Street, Hartford, CT
SQFT 54,662
Client :An Integrated Architecture, Engineering and Construction Firm
Services Provided :BIM Modeling and Coordination Services (Architectural, Structural, MEPFP)
LOD :300
Tools :Navisworks, Revit, and AutoCAD
Inputs from Client
Site access
Revit design model (Architectural, Structural, Mechanical, Electrical, and Plumbing)
Construction documents set
Shop drawings
Design changes/redlines
Company standards – template, drafting guidelines, file naming conventions, etc.
Our Deliverables
3D Laser Scan of the existing building and updating Revit BIM models
Coordinated Revit BIM model (Architectural, Structural, MEP-FP)
Final construction documents set
Model the updated Shop drawings
As-built drawings
Attend virtual meetings (On-site & Off-site)
UNITED-BIM GOALS
MEP-FP modeling and coordination
Clash detection and clash reports generation
On-site & off-site coordination and meetings with the stakeholders
Attend virtual meetings
Collaborate with the design team, and contractor team for change orders and RFI's
Point cloud scan to BIM
Underground utility scanning
Project Brief
The existing conditions of the project was 54,662 sq. ft. of nursing and senior living apartment located at Hartford, CT, which after designed to renovate into 48 units of multi-family residential apartment building. The scope in this project was to develop the BIM model and run the clash coordination process throughout the design phase and produce final clash free construction documents set. During the planning stage of the renovation project, our goal was to produce an existing condition model by conducting site visits. Further, coordinated with the design and engineering team for the new renovation designs and developed a coordinated BIM model. Our BIM Modeling and clash coordination process ran through various phases of design that is from space planning to schematic to the final construction documents set.
Project skills & expertise
Our experience of BIM modeling and clash coordination services led the design and engineering team to successfully execute the design for the renovation project. Our BIM modelers and drafters team were consistent in delivering quality work with quick turn-around time throughout the project.
United-BIM performed well by delivering the final construction documents on time, which were precisely prepared and coordinated
Project Manager