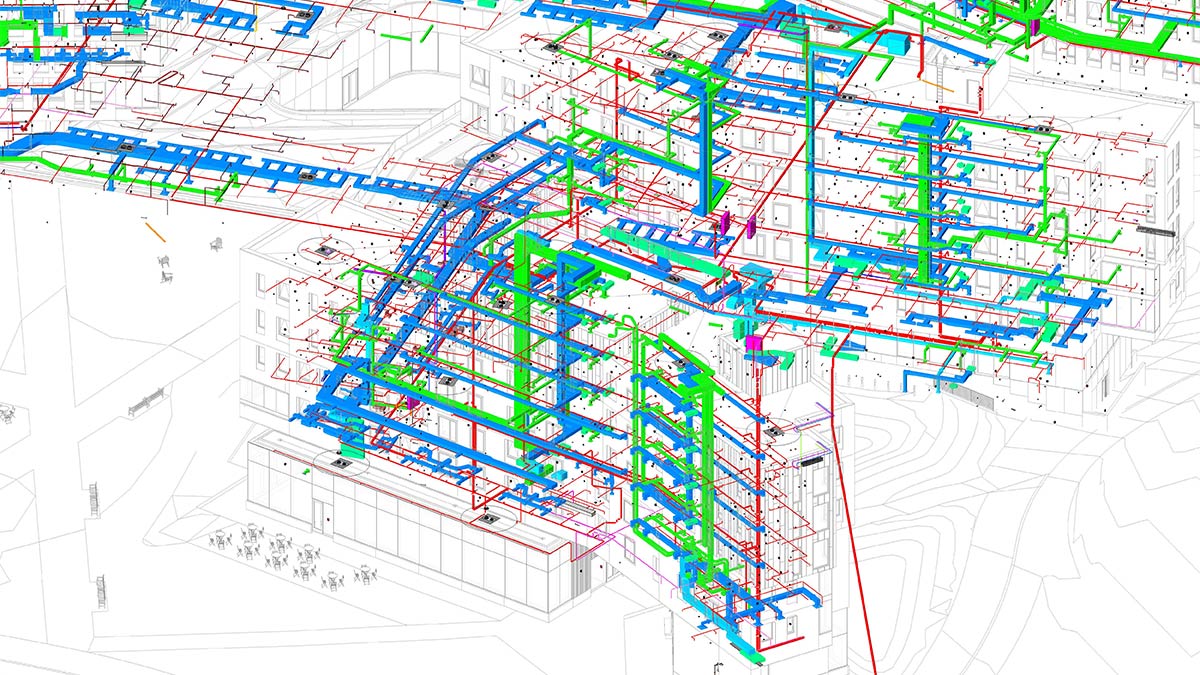 Case Study - MEPFP Modeling & Clash Detection Services
Develop highly accurate MEPFP model and provide clash detection services for an Educational Institution's Residential Hall in USA.
PROJECT NAME : Revit MEPFP Modeling and Clash Detection Services for an Educational Institution's Residential Hall
CLIENT : Engineering Firm, Project: Educational
SERVICES : MEPFP BIM Services | MEPFP Coordination | Clash-detection
TOOLS : Revit, AutoCAD, Navisworks
UNITS : SQFT - 577,707 HVAC Duct - 5.17 miles Piping - 29.62 miles FP Piping - 9.19 miles Cable Tray - 1.79 miles Conduit - 4.79 miles Electrical Devices - 19,194
DURATION : 20 Weeks
ABOUT PROJECT
8 blocks (each block of 7-stories) of an Educational Institution's Residential Hall, located in USA, are approx. 577,707 SQFT in area consisting of 5.17 miles of ducts, 1.79 miles of cable trays, 4.79 miles of electrical conduits, 19,194 total electrical elements, 29.62 miles of plumbing piping and 9.19 miles of fire-sprinkler pipes. It was a large scale project with various typical MEPFP design issues. The client had a very aggressive deadline for this project to produce a clash-free & coordinated MEPFP model. United-BIM was assigned the task of MEPFP modeling and clash detection services for the entire project. We are proud of successfully meeting the client's requirements by completing it on time.
PROJECT BRIEF
Challenges during the project were an aggressive deadline & typical MEPFP design errors. These errors were corrected based on the red markups and written comments. With the right mix of team members with relevant experience, we were able to deliver the project on-time. We delivered an accurate, detailed & clash-free MEPFP (mechanical, electrical, plumbing, fire protection) coordinated model.
Download
Project Skills & Expertise
The services used for the execution of this project were Revit BIM Modeling and Coordination. Dedicated BIM modelers from our MEPFP modeling team worked in sync to create an accurate MEPFP (mechanical, electrical, plumbing, fire protection) model using Revit and Navisworks. Our 3-Level of quality checks assured accurate reproduction of dimensions and specifications.
Download Drawing Review Checklist for Perfect Design Drawings
During the design coordination process, it becomes essential for each building system designers to coordinate their designs with other disciplines. Here are the individual coordination checklists for 10 design disciplines for clash-free coordination.
Download
We value United-BIM's quality, communication, and speed. We would love to use their services again in the future and would refer them too