What is MEP Coordination?
MEP coordination is a practice of multi-disciplinary collaboration of three major design verticals of any building infrastructure, which are architecture, structure (beam, column, torsion etc.) and MEP (Mechanical, Electrical, and Plumbing) designs.
To keep the harmony between these separate designs, it's essential to have a coordination of updated designs of each discipline. Each discipline must be precisely aware of the locations of other installations during the modeling phases and this can only happen when the latest, most precise versions of each MEP's master plan is made available. It may happen that these designs have collisions or clash in some locations, where one or many components are occupying the same space. It is very crucial to get knowledge of these clashes at an earlier stage of the construction project which can cost you millions if not detected in the design phase.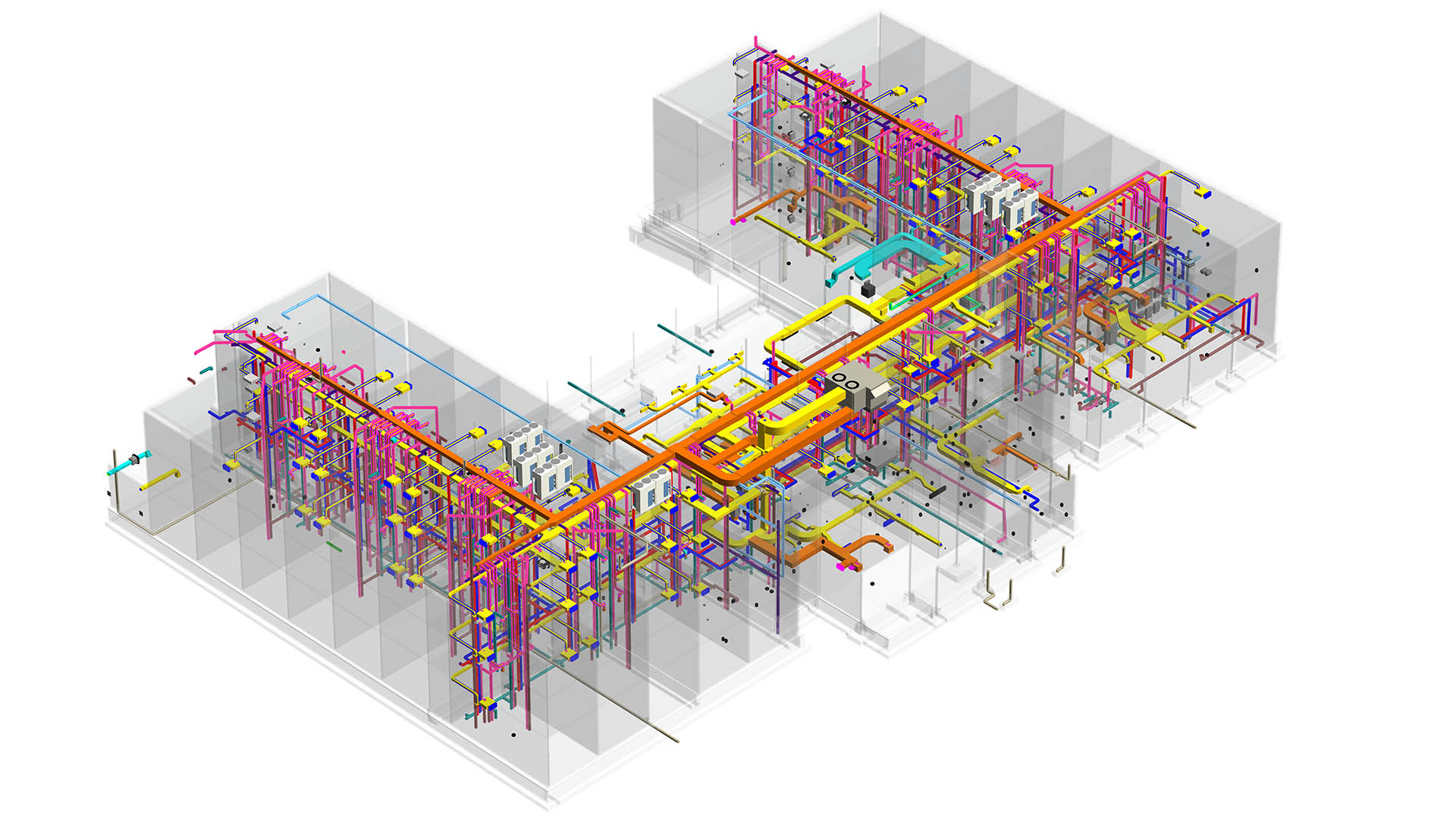 How does MEP Coordination work?
In an ideal scenario, designs of all disciplines should be done with collaboration at the conceptual stage, but it might not be feasible for most of the times.  BIM is one of the most suitable platforms to achieve MEP Coordination. Autodesk's Revit offers complete software solutions for creating 3D BIM Models. To generate the clash report from those created 3D models, Naviswork's software provides the required technical tool.
Required 3D models of designs for BIM MEP Coordination
Sometimes, 3D models are needed to be developed from design drawings. At this stage, BIM modeling service providers like United-BIM can help you in MEP Coordination. Once we run the clash detection in Naviswork's by providing Architectural, Structural and MEP models, we have the clash report showing possible collisions or clashes at multiple locations with reference positions in the coordinated design. After locating and analyzing the cause of clash, required design changes need to be done to solve the clash.
Effectiveness of BIM in MEP Coordination
Revit follows a BIM (Building Information Model) workflow as compared to a CAD workflow. With Revit, You can streamline the design documentation process and maximize productivity. For example, a single design change in one system is automatically updated across all MEP models using Revit (known as a Live Connection in common drafting language).
To achieve BIM MEP Coordination, we require these AutoDesk's software,
Apart from developing detailed HVAC plans, to the design of the facility mechanical room; Revit enables all stakeholders for taking accurate decisions with the detailed information shared by the Revit model. The result achieved is a significant increase in building performance, increased design visualization and across the board communications delivering. AutoDesk's Revit is one of the most popular software used by United-BIM team as it comes equipped with productivity tools and features specific to MEP modeling, and it supports the MEP coordination and installation process.
Subscribe to Our Newsletter
* We don't share your personal info with anyone. Check out our Privacy Policy for more information.
Benefits of MEP Coordination
Clash-free Design
Spatial coordination between design verticals
Improved HVAC duct and plumbing systems routing
The standard library of pipe and fitting connections
Built-in Building Performance Analysis
MEP systems cost estimations and bill-of-materials
Supports construction set documentation
Enhances project delivery and delivers a higher level of quality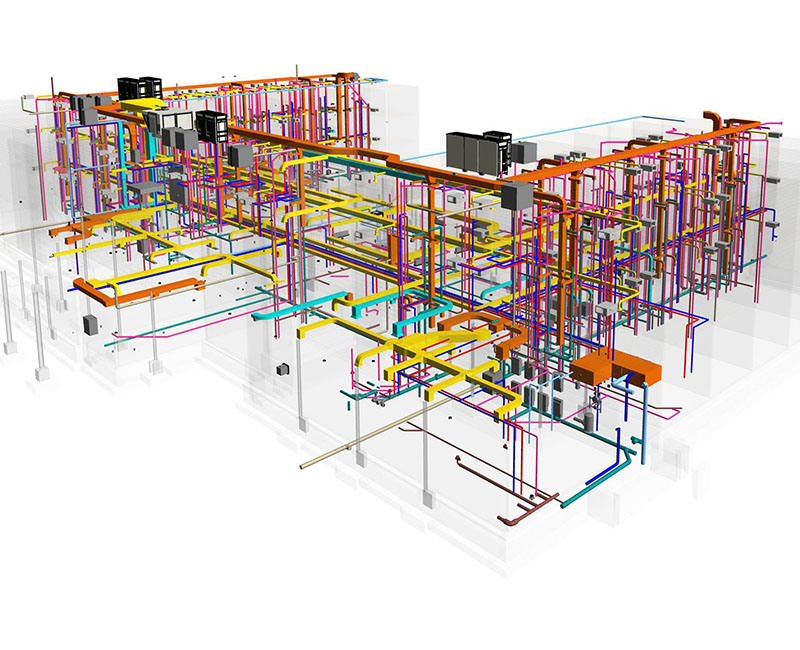 How MEP Coordination can help in a Construction project?
In some cases, around 40% of a building's construction budget can go into project's Mechanical (i.e. ducts, pipes, equipment etc.), Electrical (i.e. light fixtures, data/power outlets etc.), Plumbing and Fire Protection systems; huge monetary investment that has impact on operating cost of the building in both, shorter and longer run. Thus, to establish disciplined MEP coordination in a construction project is admirable for every sector. A well-executed MEP design coordination can save you millions and maybe more importantly deliver the project faster.
Through MEP coordination, when the clash is detected in design, the Architect & Engineer can collaborate and decide upon the redesign of collided design elements. The new version of the design is updated in the entire design model. This multi-disciplinary collaboration can save designers and engineers from cumbersome efforts of repetitively updating designs.
MEP Coordination is also useful for retrofit and redevelopment projects. There are technologies and software available to capture existing infrastructure with accuracy. HVAC, electrical, and plumbing model retrofit provide improvements in energy and building performance through MEP coordination. Reality computing and Point Cloud to BIM are some of the technology which enables us to fully coordinate MEP model of existing facilities in quick time.
Greater flexibility, scalability, swifter turnarounds, a reduction in overhead expenditures, and access to state-of-the-art resources are all benefits of outsourcing BIM MEP coordination. Feel free to reach out to us with your project details and we will be excited about providing BIM consulting.